Good evening, I was asked to make a two tiered cake for a 14 year old young ladies birthday. Although I know how to create buttercream rosettes around the bottom 8"tier, my problem is every time I've done one and I transport the cake a good amount of the rosettes fall off the cake. Please help me and tell me what I am doing wrong? I was told if you use butter and live in a humid area it can cause your buttercream rosette or some decorations to fall, but it's winter and cold. The cake is red velvet and the icing should be cream cheese. I am scared the same thing will happen. Please help me with whatever guidance you can give. Thank you.
Josette
1st off let me assure you this is a common problem!
Unfortunately I don't do Rosetts so can't help from experience.
Also understand the comment about using butter in your icing is not true. The problem has something to do with the weight of the rosette — the technique does not allow the flower to be anchored to the cake icing tight/well enough.
As I said I have no actual experience but maybe try using a smaller tip & make sure to be as close to the cake as possible.
Thank you. I will do my best.
I would attach the bc rosettes with either melted chocolate, or royal icing. Once dried, those rosettes aren't going anywhere. When I use to make bc roses to attach to cakes, I always made extra. Stored in a small container after drying hard. This way when delivering, or setting up, I had extra just in case. Hope this helps.
Thank you. I do understand but I was not going to make them as individuals to place later on the cake. The rosettes cover the whole cake and are decorated just after crumb coating the cake. I hope this helps.
Josette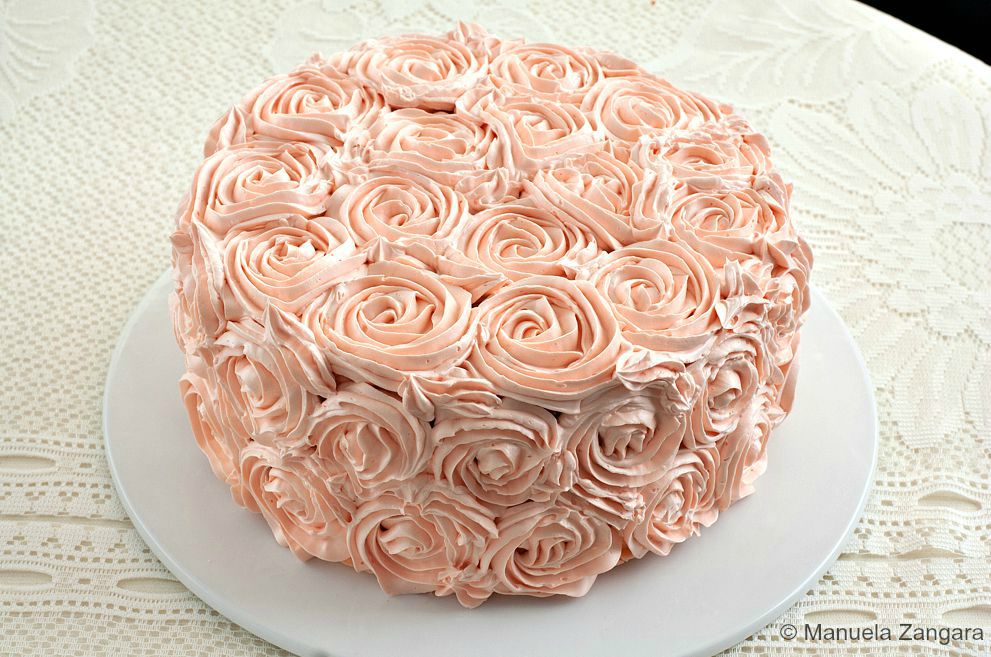 I crumb coat my cakes and don't have a problem with appling the rosettes or having them slid. You might want to try that. doz
Thank you I will do as you all have said and let you know how it turned out.
some ideas:
yes like you said after crumb coating -- but don't let the icing crust first -- in your time management you need to be ready to do the final icing --
I would be sure to jam the piping bag into the cake for a solid adherence --
you could slightly bevel the sides of the tiers, narrower at the top, wider at the bottom so the rosettes are not totally straight up and down but have a little bit of rest from gravity --
deliver a cold cake --
best to you -- would love to hear how it goes