Hi All! This is my first post so please bear with me.
I'm doing a wedding cake for a very close family friend. I attached a picture of the cake she wants. She doesn't like the taste of fondant so I plan to do the cake in butter cream. However, the drape on the bottom of the cake will need to be fondant and she is fine with that. My first question is regarding the fondant drape on a butter cream cake...will it work if I dowel the middle of the drape (behind the brooch)?
My next issue is that she wants a silver cross cake topper, with intertwined rings centered on the cross. I've searched online and I can't find anything pre-made that is what she wants. Can you recommend anyone who makes custom cake toppers? She doesn't want it to be edible. She wants the flowers (fresh or sugar orchids) to go around the bottom of the cake topper.
The next thing is the rhinestone trim. Because it is around the middle of the cake (and not around the bottom of the cake where it would have an edge to rest on), what do you recommend to keep the trim on the cake? I use a crusting butter cream. I've been doing some research on this but wanted to see if anyone has any suggestions. There are actual rhinestones in the trim so it has a little weight to it.
I plan to transport each cake separately in it's own box and stack it at the venue. The square bottom tier is going to be a dummy cake so I might stack the 12 inch cake on it before transporting. I plan to add the rhinestone trim, brooch and the drape (this is the scary part) at the venue. Does this sound like a good plan?
Last issue is that I want the cake to have the pearl look but for religious reasons, I cannot mix the pearl dust with alcohol or any extracts that contain alcohol. I understand that the alcohol evaporates but I still don't want to use any alcohol. Any suggestions here?
This is only my second wedding cake, it's a big cake and it's for someone very dear to my heart so I want everything to be perfect. Any suggestions will be greatly appreciated! Thanks and God bless!
If abiding by no alcohol, then extracts can't be used, either, as they contain alcohol, too.
http://www.etsy.com/listing/171578245/vintage-1960s-silver-plated-intertwined?utm_source=google&utm_medium=product_listing_promoted&utm_campaign=vintage_low&gclid=CP-rptzTrL0CFeY-Mgod4AMABA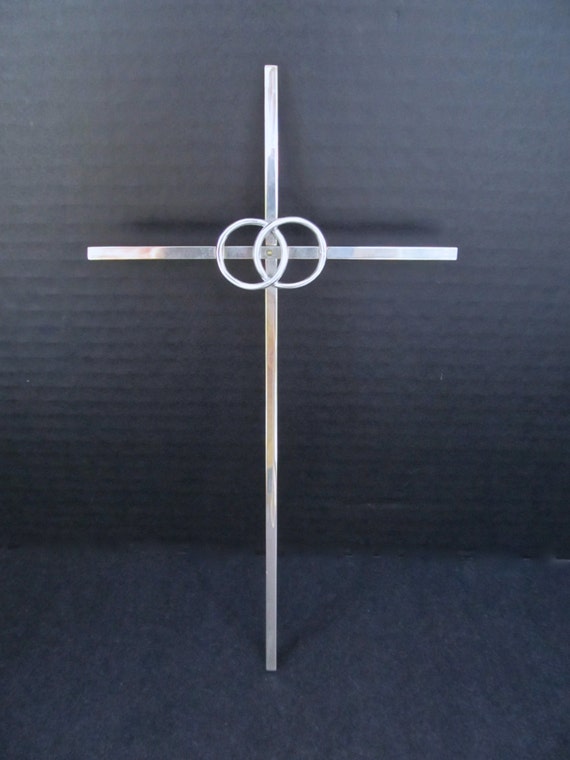 I have a vanilla bean paste and almond emulsion that are alcohol-free; I will use these to bake the cakes. Thanks for the cross topper link! This just might work. I'll check to see if she likes it.