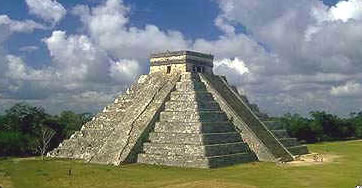 I am making a Aztec Pyramid and am most likely going to be stacking square cakes to get the shape, easy enough (I hope!) However, I am stumped on how I should do the middle "slide" or whatever it is called, lol. Any suggestions? Also, for the "stone" I was planning on coloring the fondant light gray and then sponging on darker gray to give it that mottled look. What do you guys think? Thanks for any help, I really apprecaite it!
I think you have to give more details. The size of the cake matters a lot.
How big will the finished cake be?
The cake will probalby start at 4 inches and go all the way down to 18 inches. Its the sides I am confused how to make though? Just wondering how to build out the slope in the middle of the squares?

I would probably use rice krispie treats to achieve the 'slides' in the middle- so I would cut a long rectangle for the 'slide', then cut out smaller rectangles to put underneath the 'slide' so it can be flushed with the steps on the cake...does that make sense? I can see it in my head, but its kind of hard to explain it lol. I would probably attach those smaller 'support' rectangles underneath the long slide piece with white chocolate then lay that one whole piece on the cake to replicate the slide.
I didn't even think of using rice crispies! Thanks for the suggestion.
no problem
---
AOr cut channels out of the middle of each side so you don't have to cut all those rectangles out. I think rkt is a great idea!