ok so I have a football cake to do for a customer this weekend. Has to be 30+ servings, she wants it to look JUST like a football, shape, texture, etc. She does not want the bottom to be RKT or styrofoam she wants all cake (vanilla/chocolate). Now I have done football cakes before but my concern is the bottom cake supporting the top cake (I don't want a "flat" football). Can someone give me some pointers on carving, supporting, texture???? Any help please!!
Hi, i saw this on youtube. I love susan carberry in all that she teaches. I have a couple of dvd's of hers. hth



That video is great and it would apply to whatever size you want.

Now, if the customer is so fussy that the ball is supposed to sit "above" the grass except for the central spot where it hits the turf.............that's a problem with gravity for the pointed ends. I have yet to find cake that can hang, unsupported from a board...........

You can put a board in between the 2 halves and put a few dowels in the thicker part of bottom half. That provides support for the top, but it won't help those darn ends.

Sorry, but if she gives you too much trouble about what you think you can do successfully & well, cut her loose. Customers can't dictate everything. They can only propose.

rae
Blakes is right on target. Tell her what you can do...what will survive both delivery and the time before cutting If that doesn't meet her needs, send her to the next bakery.

Just because she can dream it up doesn't mean it can be made of cake.


Mommachris
Well this is what those WonderMold pans are good for: lifelike lifesized footballs and eggs. You bake two cakes and dowel them through the middle, but you get a true 3D shape without carving.
I have the football pan. Eh.

Makes a lovely half football, though.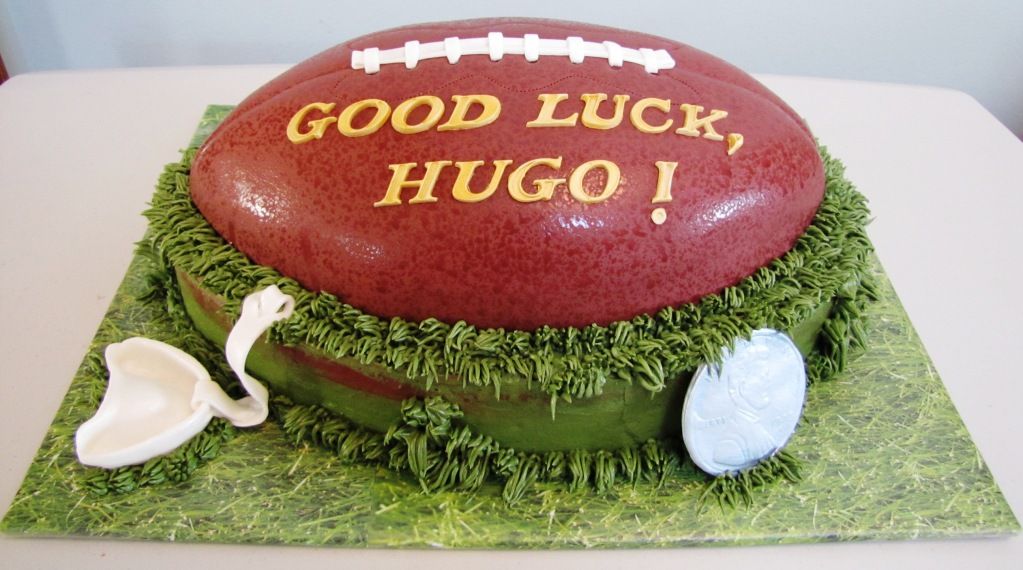 You get very little "filling" and often, the ends are a tad dry. Depending on the recipe, gravity can still give you trouble for the pointed ends.

JMHO
Rae
Thank you for all the responses! I suggested to her putting the half football on a sheet cake "football field"...wasnt having it! I explained to her the gravity problem and the need to put something more solid under it (RKT, foam, etc)...wasnt having it...ugh! I told her I would do the best I can. I was also thinking the board between and doweling it, maybe freezing to hold form and wrapping it in fondant to help hold it??? idk and she gave me NO time to plan, got the call today she wants it Friday afternoon. I am trying to get reestablished in a new area after just moving out of state, otherwise I probably would have told her to find someone else! All I can do is give it my best, I feel like I warned her and gave her options not much else to do!
Well, I hear your pain, but this is a rush order and she's trying to tell you what you can do.

If she's such a fusspot and there's a problem, she's not going to remember your admonitions. She'll just be upset & angry.

I'd say that if she can't get on board with what you're comfortable doing, then she's not a customer, she's just a potential problem.

rae
If you're not confident you can deliver a quality product within the customer's parameters, you are probably better off passing on this order.

How much are you charging her?
If it goes wrong (which it probaby will, through no fault of yours, the client just sounds difficult) then they will bad mouth you more than they would if you just passed up this order.

The customer cant make you look bad if you dont take the order, but they can claim that you promised to deliver the exact cake they're wanting, and no one will know you advised her against the design. When she doesnt get her exact wishes, she'll bad mouth you that you underdelivered.

Out of the two evils, I'd take the former. Future potential clients she speaks to cant fault you for passing on the order.
I agree with Tails and Rae.

You can always get another order from another customer next time to extablish your reputation. I would run as fast as I could from this one, though.

Hope things get better on your side.
Thank you so much to all the responses! I unfortuniately had to cancel the order. I was in a bad accident today, car is totaled! Never in my life have I even been in a fender bender and now this, some young punk ran a stop sign! I am so eternally grateful that there were no serious injuries but I am not feeling the greatest and for the first time in my cake career have had to cancel orders for the weekend
So I guess it all worked out for the best for this order because I sure wasn't getting paid enough to stress about this and end up on here with a disaster story
Oh, my! So sorry to hear about the accident, but glad that you're OK.

Feel better soon.

Rae
I am sorry to hear about your accident also. Hope all goes well with you.