I am working on a wedding cake due tomorrow. It's a very large King Tut sarcophagus, which I planned to cover in white fondant and then paint gold using the Wilton Gold Color Mist. I've never used this product, but I did research it and I figured with the white fondant it would give enough of a gold base.

I was rolling out the fondant and I seem to have underestimated how much I needed. I need just one more bucket of white fondant. Unfortunately the stores are closed (not to mention the raging storm outside) and I don't have any extra. I do have orange, same brand. What do you think - would the gold spray still look OK if if mix 2 buckets white with 1 bucket orange for a light orange? Would the orange maybe even help the gold be richer? Thoughts?

Thank you!
Well, the fact is that there's not much other choice, but I do think it's a good idea to start with some color in your fondant when you spray it gold. It always looks richer & deeper.

When I want gold, I always start with a deep, yellowish tan==at a minimum.

The chalice & lettering on this cake started out a yellowish brown--a mixture of white, yellow, and very dark brown fondant. I painted it with gold, but the result would be the same having sprayed it.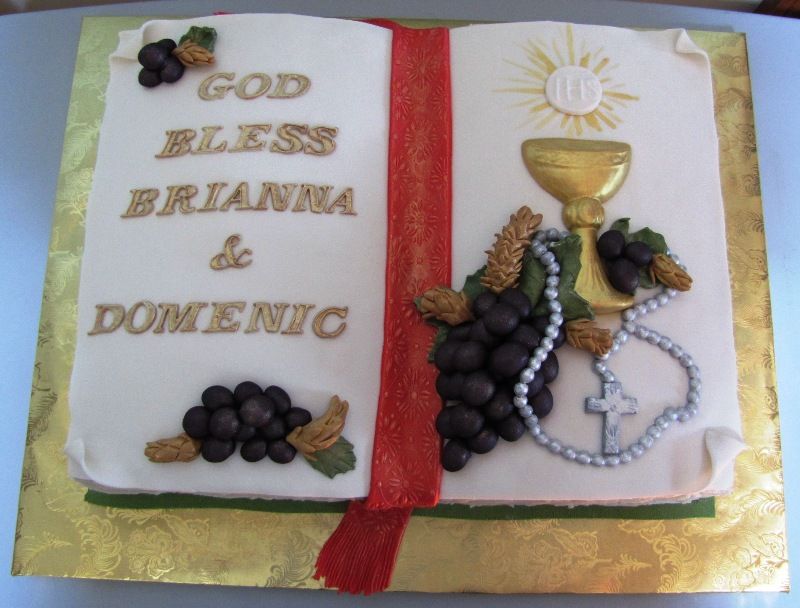 Rae
Thank you Rae! That's a beautiful cake. I've never used the gold spray before. I've done some silver painting and was disappointed, so I was looking for a different solution here. Plus it's enormous and painting the whole thing with a brush wasn't really feasible. I sprayed some of the gold on a bit of the orange and it actually looked pretty good, so I think this will work out. Thank you for the advice!
Thanks!

Also, the grapes were pale purple before dusting, the rosary was deep grey before painting, and the wheat was the same shade as the chalice to start but was only dry dusted with gold--not painted--so you can see the results of starting with a colored fondant.

Hope we can see pics when it's finished.

Rae
Good to know! Paint can make such drastic changes, it's a wonderful tool. I like dry dusting with Wilton's color dust to add dimension, and sometimes grittiness (worked wonderfully on a zombie cake I did).

Attached is a progress pic! The gold looks great. I have another can so I'll see if it needs any more after it dries. There is a spot on the tip of his nose where the fondant broke through and it shows the form underneath. It's less obvious with the gold on it, but I have to think about what to about that. A patch would look worse, I think. The circle on his chest is where a cake stand is going to go. Instead of the traditional crook and flail, he'll be holding a small cake stand with a mini traditional wedding cake on it. The board is just taped off temporarily.

This is my most ambitious cake yet, and I'm a relative newbie so this is very challenging! Thanks for your help and encouragement!

Ooo! It does look good with the gold on it. Can't wait to see it with all of the details.

Rae
Here's the final cake! It is the biggest and most complicated one I've done. The upper portion is styrofoam (they wanted a huge cake but didn't need as many servings) and the lower portion is half WASC and half chocolate. Instead of holding the traditional crook and flail, he's holding a small glass cake stand with a more traditional tiered cake. The toppers are Egyptian Legos. The colors are the wedding colors of teal and lime. I translated the couple's names into heiroglyphics down the front of the legs. They were thrilled! Oddly, I had a terrible time with the buttercream cake but Tut went very smoothly.

Thanks for your help and support! I'm so proud of this cake!

What an unusual wedding cake! You did a great job on it and should be very happy with yourself!
You did a fantastic job. The gold looks great!!!
Looks great!

I'd say that without the color under the gold, it wouldn't have looked nearly as rich.

Rae