I really want to make these but not sure how to achieve the different body/head color as in the photo: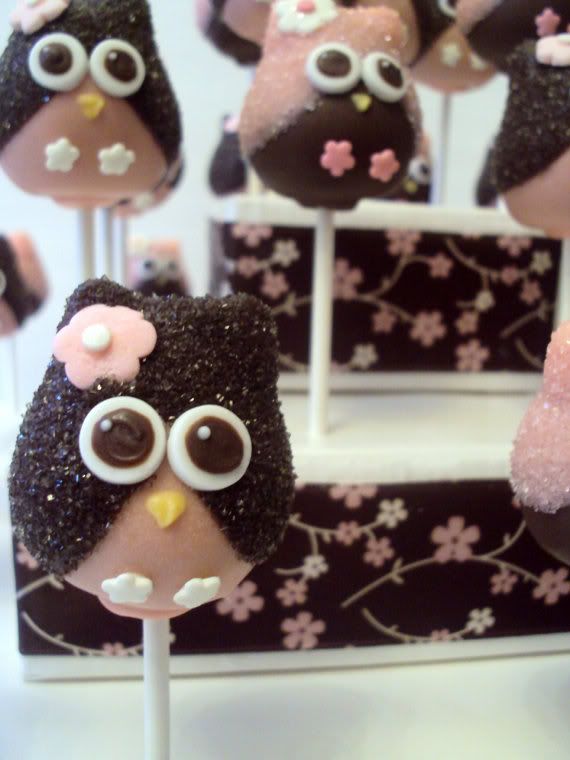 Is that sugar crystals used?
What are used for the eyes?

Thanks!
Looks like they were double dipped to achieve the effect. Base color first then after setting up it was dipped with the contrasting color and covered with glitter while still wet.
I agree with carmijok about the body. the eys look like fondant or sprinkles with chocolate dots on them.
yes they have been dipped first in the lighter colour and then when dry dipped by the top of the head and then side on.
The eyes could be mini MM??
Bumping this thread as I'll be making these this weekend. Im not sure how I can dip the 2nd time to get the sharp V around beak/nose? Should I dip in the lighter color and "paint" the darker color and then add sugar crystals?

I really think the eyes adds to the cuteness of these....if I add melting chocolate to white fondant, will the fondant melt etc? Thanks
Don't paint. That will be messy. Just dip the whole pop in the first color and let that set up. Then dip at an angle in the second color on one side and repeat on the other side. Dipping at an angle will give you the V. Then sprinkle with sugar crystals and let dry.

For the eyes I would use fondant. Cut out little circles of white fondant and use the melted chocolate for the pupils and a white dot of royal icing for the glint part. If you aren't packaging these you could use buttercream for the eyes. Or another option is to buy the eyes premade and stick them on. I saw them once at Walmart in the cake decorating aisle. Good luck!