Hi everyone! Opening up another session of the FNCC! Who's up and whatcha workin on?

Cat
Hi everyone! I'm here but not really here! We are celebrating my younger daughters birthday tonight so I'll be in and out till 10pm PST when the party is over!

I made her a cake that looks like a Cherry Pie! She loved it and most of the guests had no idea it was cake! LOL!

I'll post it later tonight!

love,
Cat
Is no one out there tonight??? What do you guys have coming up this next week? Did you post any new photos this week?

Cat
I'm working on a Tinker Bell cake. I had hoped to be done by now, but I decided to bake a third layer and left out the sour cream. Then I went to the store to buy butter and cake flour so I could rebake the third layer. Started working with it before it was totally cool and it cracked when I tried to flip it to put on top of the cake. One part broke off and came so very close to hitting the floor but i caught it.

I'm doing a fbt for the first time and I think I'm going to have a hot mess on my hands. Couldn't get the colors like I wanted. Right now it is in the freezer. Once I finish frosting the cake I'll take it out and fill in areas. I guess if push comes to shove I'll cut what I printed out and put it on a piece of fondant and tell them to remove it before cutting the cake
.
Oh that sounds tragic! I do hope you find success thru the night somewhere tho! I'm a huge Tink fan (proven by the TBell on the back of the jacket I'm wearing right now! LOL!) So I'm hoping to see photos of your completed work soon!

love,
Cat
Ugh! I hate those kind of caking days! Makes me wish I had time to walk away and start over tomorrow.

I'm not working on anything this weekend other than cleaning the house. It's quite a mess around here. : )
hello,
im here....working on a cake for my daughters 25th birthday tomorrow...oops i mean today.
so far behind on this cake.
her favorite band is hanson. (yes those mmmmbop boys)
so im attempting to make them in figures.
i got the instruments just about done. but im horrible at figures so i dont know how far im going on this cake.
the cake itself is her favorite, redvelvet w/cc.
wish me luck. this has been a hetic week for me that im just really now concentrating on this cake.
I just finished what seemed like a hundred icecream cone cake pops, chocolate covered marshmallows, and cheetah print rice crispy treats for my daughter's 5th birthday party on Sunday. Oh yeah, and some brownies...who's idea was it to have a dessert table instead of party favors???? Oh yeah, that was mine....stupid!!! So now it is time to clean up the kitchen and prep for the cake tomorrow. She requested the beautiful fondant ruffle cake that is so popular right now. Don't most 5 year olds want spongebob or princesses, not cheetah print, ruffles, and bling????? Atleast I talked her out of the puppy and kitten figures to look like they are trying to eat it....she wants it all!!!!
I thought I had made enough icing, but I ran out of white. I had leftovers of the other colors. So I mixed them all together and tried to make purple. It didn't work. I got a dark grape at best. I used it anyways. As of right now Tink looks like she has been crying
. I should have made a bigger print out so it would have been easier to trace the details.

I'll see if I can fix her in the morning. If I can fix the black around the eye and make a nose maybe it will be ok. Of course I'll add borders, etc.

This is what I have so far. I'm open to any tips.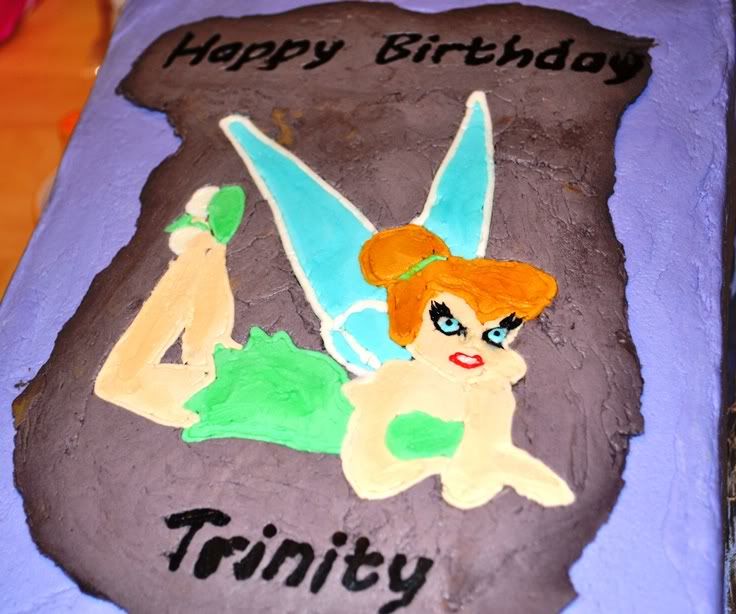 Hello. Is anyone still out there?
I'm still up. Not sure why
.
I made some changes to my cake earlier. I decided to remove some of the grape frosting. Cut around it. At first I thought it was going to be easy to lift it off, but nope. So once I did that I took some of the white icing I had left and went around the areas I removed. Later this morning I'll make more frosting and leave it white and do a fancy border and try and cover the leftover specks of grape frosting. I did make Tink look a little better
.

I'm supposed to be downtown by 8am for our long-run. I'm doing an intro running program. It had been raining up until an hour ago, but now it has stopped. Not sure if I'm going to make it.
Not sure what time it is over there but its Sat afternoon here. I was planning on doing some wedding cake dummies this weekend. See, I advertised in an annual bridal magazine coming out in March and don't have much to show in my gallery. My nephew calls me with a landrover cake order for his friend's son. I have to divert now. So frustrated as I am running out of time but still keen on doing an improved discovery cake than the one I did before.