I've been wanting to try and make a vertical layer cake I saw on I am baker, and with reading the tutorial it states to not use too much simple syrup when binding the layer together. I'm kind of curious as to what, "too much" is so I can kind of gauge what "enough" is when I make it. I've never added simple syrup to a cake for anything at this point. thanks.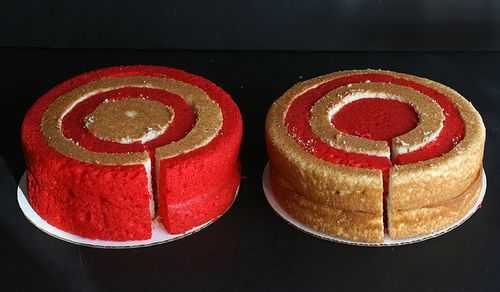 [/url]
I stumbled across your post and discovered I have the very same question as you! I attempted to make this last weekend and just drizzled some simple syrup over the cake and it really didn't seem to do anything to make the layers stick together...did you ever find out how much to use on one cake without it being too sweet and drenched with syrup? I would appreciate any advice...I am making this cake tonight!!
I don't think any amount of simple syrup will make the layers stick together... it's just not a sticky thing. It's designed to soak into the cake and disappear.
That red and white cake is going to look terrific!

When I put simple syrup on, I spritz it on with a squirt bottle. I find it so much easier then trying to drizzle is with a spoon or a measuring cup.
I put mine on with a regular squirt bottle
Thanks for your tips...you were right...it really didn't do anything to the interior layers of the cake...it just soaked in. It did seal the edges of the outside layer pretty well after I cinched it and re-froze it. I even applied the simple syrup with a basting brush to each layer instead of pouring it. No such luck. Next time I think I will frost between the vertical layers to create more of a glue. The cake was beautiful but as soon as I cut into it the squares just fell out!