I am looking to package some cakes for a charity bake sale. The cakes will be small--6" rounds, hopefully about 4"-5" high and covered/decorated in fondant and/royal icing. I was hoping to use two types of these that I found:

http://www.amazon.com/dp/B005MW11AY/?tag=cakecentral-20

Do you think this will be okay!? Do you see any problems? I want the cake to show well, and don't really like the look of those all plastic hard containers. I also plan to match the decor to the boards.
I think I'd be afraid that the paper would put marks on my cake. You'd have to be careful to have enough of the wrap to be loose around the cake when you tie it.

If you don't like the look of the harder plastic containers, what about boxes with windows?
i fear your cakes will get smashed. or will mess up/smear the design
I would be worried about the plastic touching the cake with this packaging.

If however, this is the look that you like, I would modify it slightly. I would go and buy some flexible, clear, sheet plastic and cut it into strips long enough and tall enough to fit around the cake without touching it. I would secure it tightly to the board (maybe cut tabs at the bottom of the plastic) and place the cake inside and packaging over top. This way the packaging will be touching the harder plastic rather than the cake.

If however, you are against hard plastic altogether, maybe try either cardboard boxes with windows or tins with windows.

Hope that helps
I'd think that the paper would wreck the cake design. The clear plastic domes would show off the cake best, while offering lots of protection.
I think it would look more professional if you used boxes maybe somehow they can be displayed at the event and packaged after.
Okay guys, I appreciate all of your input (which I didn't even get to read because I was so over my head in cake batter!!!)

Well, I had this in my head and needed to do it--and I am so happy with the way they came out! I knew that I would only be doing fondant and/or royal icing, so I knew there'd be nothing for the bags to mess up. I also knew that these bags were somewhat stiff, and would stay where I tied them (i.e., when you puff them out and then tie up over the fondant bow, it stays poofed). Plus, I knew that since the cake boards were larger in diameter than the cake, the extra size would hold the bag away from the cake.

Here are some pics! I sold all 5 of them, plus all of the cupcakes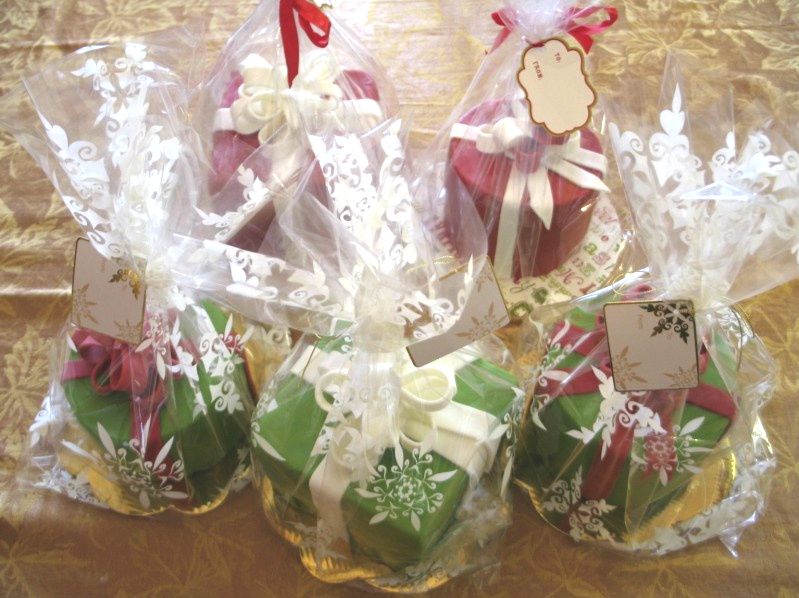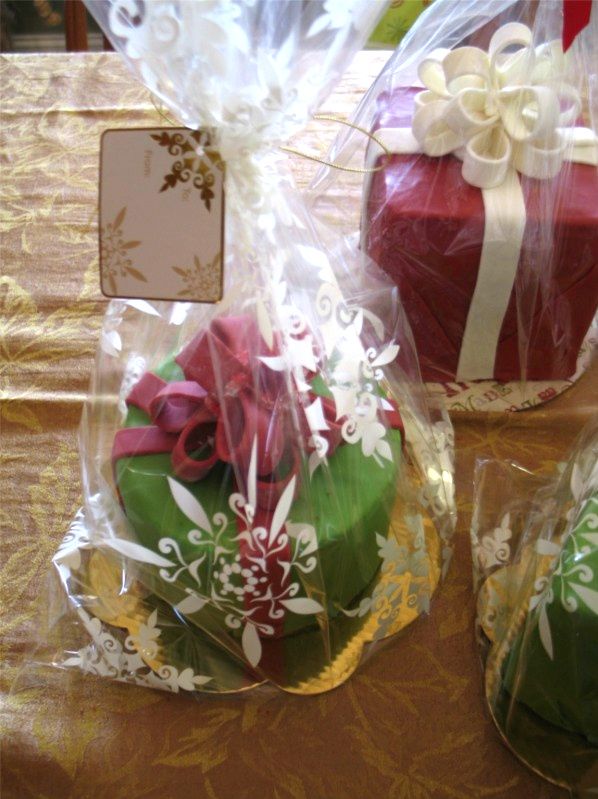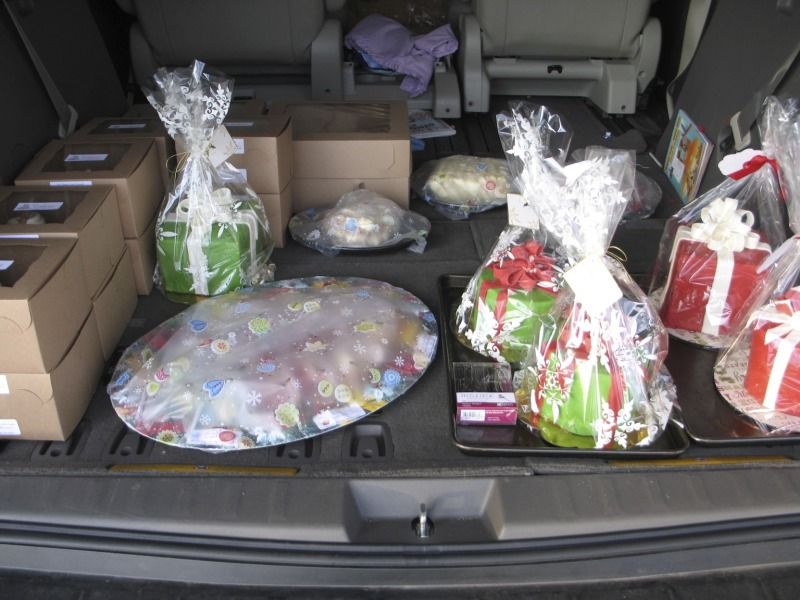 These were the first cakes I made that I packaged, and I did all of my own labels for the first time! I'm so happy with the way they turned out! Keep in mind, this was primarily only because of the present-Christmas theme of the cakes that I wanted this packaging--it wouldn't be a permanent packaging for me. I usually do very custom, novelty cakes, which usually get delivered in an open UPS box


Thank you for your support and advice!
Oh, a couple more comments on the packaging: I could lift these from the gathered/tied top part, but most people carried them automatically with one hand underneath
But remember: these were smaller cakes, each about 5-6" round/square and 4-5" tall, and the decorative cake boards were wider than the diameter of the cakes, so that helped with stability too.
Those are lovely. I hope it brings you much business!
Pretty cakes!! Great job!
They look so cute! They came out great. I may have to try this as well for gifts. Thank you for showing us your pics, so we could see how it worked for you!