I had my first topsy turvy wedding cake to do a few months ago (in June) and you could say I wasn't the least bit calm about it. I saw several videos on youtube showing how to stack them and they just make it seem so simple! But when the time came, it was just one big disaster after another


The design they wanted required lots of carving to get that angular look where the top was wider than the bottom - because of the moisture in the cake (despite using a firming recipe), the bottom and second layers crumbled down and broke into pieces while I was putting fondant on the top layer! To make matters worse, by the time I fixed the crumbled layers the top layer became super lumpy. I was tempted to freeze the layers before I carved but it seems to be controversial?

Anyway, when I finally managed to get fondant on all of them, the middle layer collapsed into two before I could even assemble it, followed by the collapse of the bottom layer. At that point I felt like throwing up and also digging myself a little hole and hiding for a very very long time!! Anyway, DH and I ended up salvaging it by just making it regular (non topsy-turvy). In the end though, my father in law ended up telling the clients (who were friends of his) that I fell with the cake and almost broke a bone. Needless to say, I was greeted with sympathy from the bride's sister and parents, and they were happy with the cake since they were expecting MUCH worse!

Seeing as I'm not the only one with a disaster with topsy-turvies, is there any advice anyone could offer me? At this point, I'm completely discouraged to ever try them again. I'm perfectly fine with regular cakes, but I just don't think I could handle all the carving and angles involved with a topsy turvy!!


Is there any advice anyone can offer? Maybe I did something wrong with the recipe? I only used about 2 tbsp of oil (It was a firming recipe using 2 boxes of cake mixes). Should I actually go ahead and freeze the layers next time before carving? Unfortunately I was so distressed with the whole situation, I didn't even bother taking a picture of the mess, although now I wish I did to look back on it as a learning experience, and of course to show you ladies exactly what went wrong.
All I can say is: get Sharon Zambito's Totally Topsy Turvy dvd. In it she explains how to carve it, fill them, stack them and cover them but she gives you tons of extra advice as well. She ganaches her cakes and I think that helps keep them more "solid". Also included in her dvd is a recipe to make a denser cake using a cake mix. That being said - I'm attempting my first topsy turvy next month, but I've watched this video several times...
I so feel your pain on this!! I had a similar thing happen to me last week. This was the second topsy turvy cake I have made, and it was a complete disaster!! I had white cake on the bottom, red velvet in the middle, and chocolate as the top layer. I had to make the red velvet layers three separate times... I did finally get the cake together (I did the top slant but decided not to slant the sides of the cake), and it looked great. Unfortunately, it didn't make it to the venue, and my customer told me the middle layer fell apart on the way there...

I do have Sharon's Topsy Turvy dvd, which is a really helpful tool! I chose not to use ganache though. I've seen lots of people who use buttercream on these topsy turvy cakes, so surely something else is going on.

I would be really interested in some expert advice on this as well. I am a scratch baker, and the only thing I could figure is that my cakes are just too moist and not dense enough for the topsy turvy look.

Don't get discouraged! I know you can figure this out!!

Christy
Ouch, that sounds a lot like my situation, CestDuGateau. I guess it's something that comes with lots (and LOTS) of practice!

paula0712, good luck with your cake!

I'm hoping to attempt another one of these in the near future just for experimental purposes, of course. I'd like to continue trying until I get it right for the next time a client wants one. I'll just have to muster up enough courage to do it!


I'm also considering getting Sharon's topsy turvy dvd now based on your advice.. I guess what I need more than anything right now are tips on how to get it right and her recipe will probably help too!! Thanks for the encouragement!

Anyone out there with more advice?
The only advice I can give is that I agree with paula0712. Get Sharon's totally topsy turvy dvd, it will really help you when making this type of cake.[/list]
Sorry if I'm hijacking your thread, but I have pictures of my disaster, and just wondering if there is any more advice out there? I used the SPS system to support the middle tier and wooden dowels (it was an odd size and I couldn't use the SPS) to support the top tier. I really don't understand why this happened because I feel like the cake was properly supported.

Thanks for any insight anyone might have.

Christy

Here's the link to the cake photos: http://cakecentral.com/gallery/2127577
The sturdiness of the cake is imperative. If I am using the ganache under fondant method, I will use less sturdy cakes like yellow, lemon, strawberry and red velvet. If they want only Bc or Bc under fondant, I will only use the durable recipe on this site made with betty crocker in either white or chocolate, or pound cake. HTH!
Thanks so much for your input Sharon!
I've done two now, and my first one came out better than my second! I use the "durable cake" recipe from this site and find that it holds up the best for carved or topsy cakes. My problem is getting the proportions of sizes of tiers right--it seems like I need a few more inches between sizes to get the tier to support the one that sits on top of it.
i suggest 3-4 inch difference in between tiers. 4 is safer, lol
I did my first one about a month ago. http://cakecentral.com/gallery/2107629 I am terrified to do another one because my first wasn't a complete disaster I'm sure the next one will be! I used the method where you carve a flat spot in the bottom tier for the second tier to sit in. Does that make sense? It then seemed to stack just like a regular tiered cake. I could have been doing it all wrong but it worked for me...this time!
Oh, the other thing that happened this time that I didn't anticipate and didn't know how to fix, last minute was: when I cut the hollow in the middle tier, it ended right at the bottom of the top layer, and so it just wanted to fall outwards. There was no support for the fondant and the hollow ended up wider than originally cut, as a result. Here's a picture: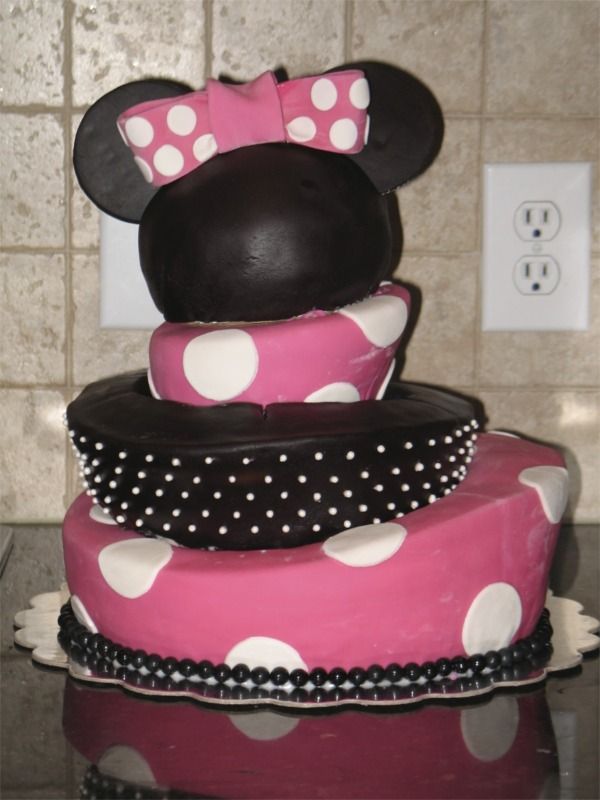 AND one more thing
I decorated the middle tier with pearls before stacking, so the pearls ended up pushing that tier to the left and it didn't sit where it was supposed to. YIKES! GOOD THING IT WAS ONLY FOR MY DAUGHTER!