These are my most recent cakes.

This is an 8 inch two layer cake. (12-16 Servings, yea?) I am already noticing that I should have put some type of border around the bottom.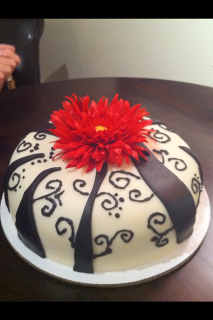 Here is my other cake from this week. two layers each-top tier is 6 in and bottom is 8. (Would this be 32 servings?)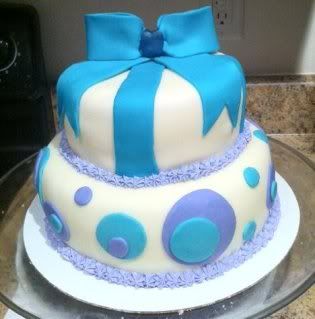 also...next question. What would YOU charge for each cake?
Thanks SO much for your help!!
Hello laurajo,
I'm just a hobby baker, so first of all, I can't presume to know everything. Since I don't charge for cakes, I can't help you with pricing. Also, I don't cover cakes in fondant, so I really can't help you there, although it does appear nice and smooth. I do think you have chosen interesting color combination on each cake.
But I can give you one little piece of advice. Looking at your cake boards, they appear naked, lol. I would suggest that you cover your cake board in something, preferably something that complements the cake design. In a pinch I use freezer paper, shiny side out. You can also use colored wrapping paper or fabric, covered with contact paper and a cake board placed on top to keep the cake off of the contact paper.
Here's a cake board covered in fabric:
http://cakecentral.com/gallery/1579890
and here's one covered in wrapping paper:
http://cakecentral.com/gallery/1959923

Hope this helps.
The only thing I would change about the top one is (as you already stated) to give it a border to finish the bottom edge. In all other respects I can find no fault with it at all, though if I had done this particular cake I might have moved the flower off to one side more and pulled the black cutouts and piping in the same direction. The flower in the center is a bit too symmetrical for my own tastes, but that's more opinion than rule.

For the second one I notice that your border piping is not quite all the same size, but that is something that comes with practice. If I had done this cake, I would have introduced a sense of movement by making the ends of the bow lie less flat on the surface of the cake. By giving them a bit of a ripple or a twist adds interest. Again that's more opinion than rule. I would also have left off the stripe on the top tier and replaced it with a few smaller dots. I find the stripe competes with the bow, and is a bit of a distraction. Finally, the center of your bow should be the same color as the rest of the bow, or at least the same color as the other dots. Introducing another shade of blue in only that one spot is a bit jarring.

All in all I prefer the top one (more because blue is not one of my favorite colors), but both are very well done, and I especially like your bow.