Hey CCr's....I am about to start on a monster (to me) wedding cake...
I have already asked how to decorate it, and got alot of good tips and ideas. Well, time has come for me to start on this cake. This cake is soooo large I'm questioning on how to support it. For some reason, I don't belive my regular method of cake boards and dowel rods will work with this cake. So any advice would be great! FYI - I'm also going to be having to travel 1 hour to deliver this cake also...so that also plays a factor in my mind..
Thanks!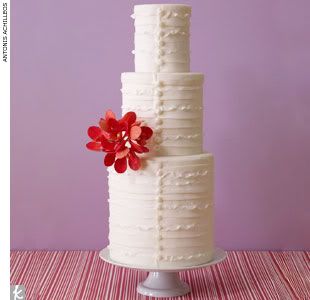 That's actually 6 tiers, and I would place boards and dowels between each.
I agree with the above poster, boards and dowels..........I would also assemble on sight, I wouldn't attempt to drive with it assembled. Of course I'm a hobbyist but the idea of driving with a cake that big would terrify me....HTH!
I just don't think that a normal cake board could support all of that weight......I could be wrong, but that is ALOT of cake! lol
I use SPS for every tiered cake I make - it's wonderful! Not sure if you have time to get it ordered before your cake is due, but it may be worth looking into.
I'd use SPS also. But I use it for every cake.
.............just don't think that a normal cake board could support all of that weight.............

Here are two of my 'monster' cakes that were put together with cake circles, straws (YES STRAWS!) and some dowels.
http://cakecentral.com/gallery/1379797
http://cakecentral.com/gallery/53839

I definately would transport in 3 sections and put together on site. This design is going to b e top-heavy and any swurve(sp?) or turn you make is going to cause it to topple
An hours drive is going to cause you UNtold amount of worry if it is stacked already.
Like McDonald Straws?
And What is SPS? Never heard of it....i don't think anyways...lol