I am going to use fondant. I have no experience using it, my sister does though, she's going to be making it with me. All I have is some raw artistic talent, not a whole lot - but hopefully enough.

Anyways, to the point - We didn't want to have to buy a ton of tools to make just two cakes (one for aunt, one for mom) so I was wondering if anyone had any jury rig ideas, diy tools or things that are somewhat elementary but can be done by hand.

Greatly appreciated! (=
The only thing I have for fondant cakes (granted I have only done a few!) is non stick rolling pin, pizza cutter and a lot of crisco! I also use some cookie cutters.
Cookies cutters are great to use with fondant. Flower ones would be pretty easy to do for Mother's day.
It also depends on the design you're going for. There's a lot of things you don't need tools for - Bows, ribbon roses/duff roses plus a BUNCH of other flowers.. Stripes, dots, etc etc..
What type of design are you wanting to try?
I recently made roses free hand with modeling chocolate, so I going to assume using fondant would be the same. there are some great tutorials on this on Youtube. I agree with the other post - cookie cutters are always an option. What type of design are you looking to do?
A very clean garlic press can be used for hair. Spaghetti can be used to hold pieces together.
wow great ideas! im looking up a bow tutorial, even though i think we were going to head into a more springtimey look. we have heart cookie cutters. a pizza cutter is a great idea - we have 2 we could use!

we are on the fence between polka dots, flowers or hearts. i know if we do flowers ill try to get fancy and make multidimensional ones that might turn out horrid.
You can basically use anything you'd like!
I've used egg cartons to make flowers hold a curved shape, napkin carton tubes or cotton is good too. To make markings use toothpicks or get a clean blade or knife to cut out fondant. Maybe use lace or other textured things to imprint the fondant and give it texture.
With a little creativity and ingenuity you can use anything you have!


Don't get down on yourself before you get started. Try making the "Duff roses" (search here or Youtube for some quick tutorials). They are very easy and look great. Good luck!
thanks for all of the tips everyone! we used the pizza cutter to trim the cake and make the leaves. i watched the youtube videos and made the roses. the white balls are supposed to be pearls which will hopefully look more like them after some luster dust tomorrow. i also used an egg carton to hold the shape of the roses while they dried.

as for the color scheme.. well there was none xD we just played around with colors. i appreciate the tips and info, it was fun!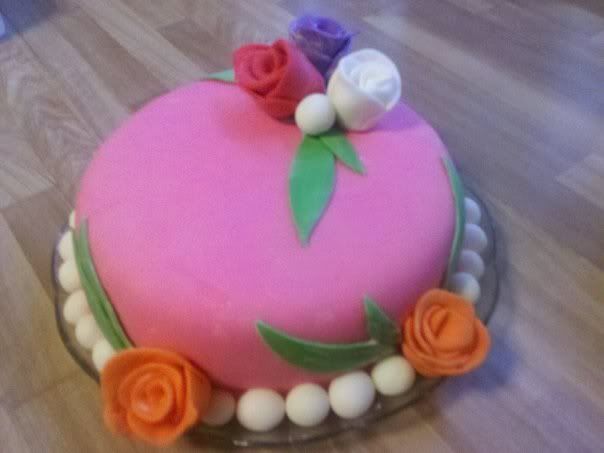 [/img]
Congratulations on a successful cake! Love the bright colors and I'm sure your mom will as well.
You did a great job! Looks beautiful!
I think you did a fantastic job.
Your fondant looks very smooth and those roses are really cute. What a lovely cake