Inline Skate Cake Keeps Leaning~How Do I Fix It? Pics!
Decorating By Angelfire3 Updated 22 Jan 2011 , 6:58am by Mac
Greetings all,
Tomorrow is my daughter's 8th birthday party. It's going to be at the skating rink. Her cake is supposed to be an inline skate cake. Everything is going good until I notice that the left side is leaning. I haven't put the fondant on it yet. I'm going to do it shortly. I have to tint it first.

How can I fix it or is it just a lost cause? FYI: It's Devil's food chocolate cake. I added some instant pudding mix to it for added moisture. And it's a very moist cake.

Below is a picture of the crumb coated with cookies-n-cream BC.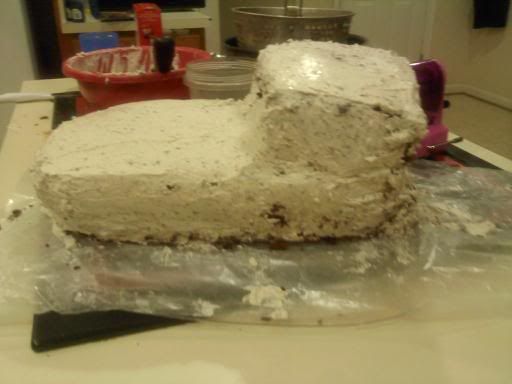 Thanks in advance.
Quote:
Originally Posted by icer101

HI, no pic showing.



Really? Because I can see it. Here is the link for it.

http://i135.photobucket.com/albums/q138/angelfire_x/My%20Cake%20Creations/Skatecakecrumbcoat.jpg?t=1295657853

I'll try the "img" attachment again. But I can see it.


This is my suggestion, although I am not entirely sure it would work...

Do you have any extra cake from carving? Maybe try lifting or removing the top section off and placing some extra cake on the side of the leaning corner then reapplying the top. Recrumbcoat if needed. If this is all one carving, try adding some cake under the bottom of the leaning side. Then crumbcoat that part again and chill good before putting your fondant on.

Hope you are able to fix it. Either way, I am sure your daughter will still love it since you made it. Happy Birthday to her!
what kind of supports did you put in the cake?
Quote:
Originally Posted by leily

what kind of supports did you put in the cake?



None (hanging head)
Was I supposed to?
it appears the cake is too soft. Put it in the freezer to allow it to firm, then you'll need to put supports in. For every 2" add support dowels and then put the cake on foam core support. Make certain your support legs are level, and you won't have any problems. Otherwise the cake will most likely break apart during the early stage of the party tomorrow.
Good Luck!
i agree with cakery bakery. Get that cake firm before you start taking it apart to put supports in.

As for "supposed too?" well if it's only a total of 4" tall (can't tell what size it actually is) normally i wouldn't, but since it's so narrow and tall i would every 2" as cakerybakery suggested above. The only difference i would do is put it on a normal cake board (i dont' keep foam core around for cakes or use it, i just use the wax covered cake boards, and if i'm out then i cover a regular cake board with fanci foil or freezer paper)
Thanks Everyone! I REALLY, REALLY appreciate all of your advice. I will do all I can (using your suggestions). I'm going to take a break from it for right now b/c I'm really depressed/disappointed & I just feel like crying (not necessarily cake related. I'm just in this funky & depressed mood--hubby is in Afghanistan & I'm overwhelmed).

I do have some cake left over from the carvings, but me and the kids ate majority of it earlier. We just couldn't help ourselves. this is the reason why I only bake for my family. I'm honestly not that great at it. It seems like the more I make them, the worse I get.
I,m sorry Angelfire3, when i posted, there wasn,t a pic. But , i do see it now. Don,t know why i couldn,t see it, when i posted.
I totally agree. It needs support.
I'm probably too late...hope you were able to fix it! I would chop off the top section, support underneath it, put the top section on cardboard and re-ice. If you don't have the extra cake to level out the bottom, firm up some buttercream w/ powdered sugar and slab some under the bottom of the leaning side.

I think the main problem is the cake; for anything carved you need to use a firm cake recipe so it withstands cutting. Here is a good chocolate one for next time:

http://cakecentral.com/recipes/6963/firm-chocolate-cake

and a yellow recipe:

http://cakecentral.com/recipes/1972/durable-cake-for-3d-and-wedding-cakes

They are both really good! Don't get discouraged! Just chock it up to a learning experience and keep practicing!
Angelfire3--
Don't get discouraged...we have ALL been there, done that! Everyone of us (I am sure) has had a flop or two...you will get better. The mistakes make us better...if we didn't make any, we would never learn or improve. Take a break, take a deep breath, sleep on it...HUGS!