I have a request for a Grooms Cake, Pirate Chest theme. I have never done a Pirate Chest but am excited about learning how to do it. Any suggestions on how to put it together or what type of pan to use for the top? Or what to use instead of cake for the top?
GREAT JOB!!! I love the wood grain you did!!!
thank you Karen421. Oh, and for the groom, if you don't need that much cake, you can always make the top out of RKT.
I've made two now and I used Rice Krispie Treats for the top so it's not as heavy. It shapes nicely with your hands. I used a microplane zester to even it up before adding ganache and then strips of fondant.

Hope that helps.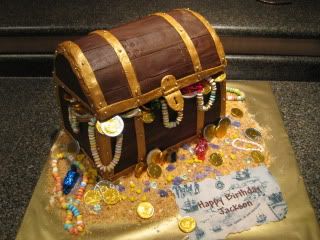 Edited to use smaller picture (larger version in my photos if you are interested)
Oops - sorry Karen. I just noticed that you already suggested RKT.
How does the top part stay on?