Hello,

Making a bunch of cake pops for a friends little girl.

She wants Abby Caddaby... I am lost at how to make the hair... what candies to use?

Any ideas?

TIA
pink and purple star tipped icing...I'm not sure. Hope someone comes up with a great solution for you
Gum called "Big League" chew . Don't know if you will have it where you are ( or if they even make it anymore) but it is thin strips of pink (unfortunately not purple) gum sold in a pouch. You could paint it purple.... Good Luck!
If you try the Big League Chew gum it also comes in grape so you can get the purple and pink together if you're going that route.
How about using that grass tip.Don't know the number but has multiple wholes. stripe bag w,stiff fushia ,pink and purple icing. I wouldn't make the pom pom effect too,too long. then sprinkle w/sparkley pixie dust or something.Maybe cute on pops and for her hair on cake.Maybe tie little irridescent ribbon on pop stick to imitate wings. just thinking of it i want to make some. Have fun! Karen
I came across these cake pops. Maybe this will help


http://www.flickr.com/photos/cakepoplady/4697003486/
thanks! wonderful ideas


Sandypins... i stumbled across that too!

I will try the grass tip....the kids are young 1-3 years old.... I don't think gum is a good idea... but it would be AWESOME!!

I'll let you know what I decide
I ended up using M&Ms and covering it with purple candy melts


I would do things a bit differently (like make them more pink)!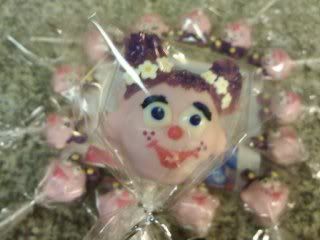 Rocketgirl, they came out adorable. Bet the kids loved them.
Too cute! Great job Rocketgirl899!