Hi! I'm very new to the decorating world, and have just begun to learn my way around the kitchen. I've always wanted to give it a try bc I've always LOVED drawing & anything to do with art. My problem is... inexperience. I only just started decorating a little over 2wks ago, and I find myself flooded with people asking how much and wanting to order, etc.

My problem is PRICING. I read somewhere that you should calculate your cost & multiply by 2.5 or 3 to get your selling price. Well, since I've been lucky enough to find my supplies very cheap, I feel as if I may be cheating myself if I let an item go under-priced. Can anyone PLEASE suggest how much one might expect to pay for the CC bouquets I've posted photos of?

I've come up with a price of $15 & $28 for what is shown. Is that asking too much?

TIA for any suggestions & help!

Shona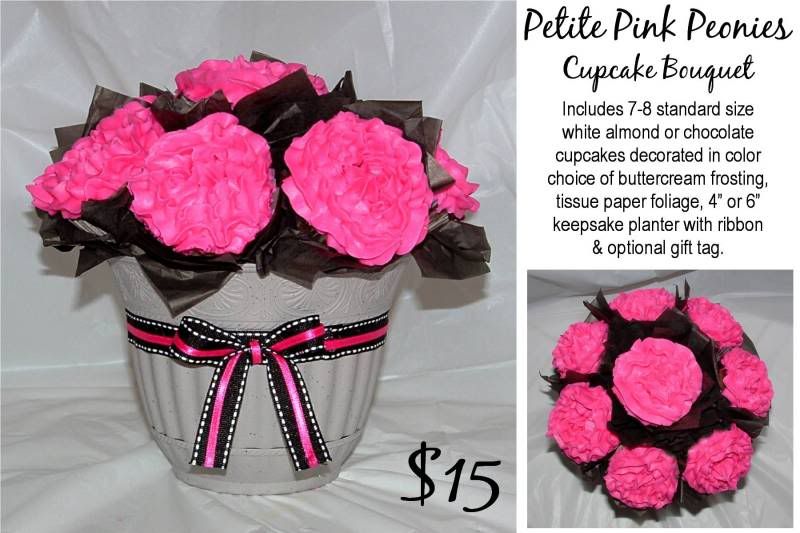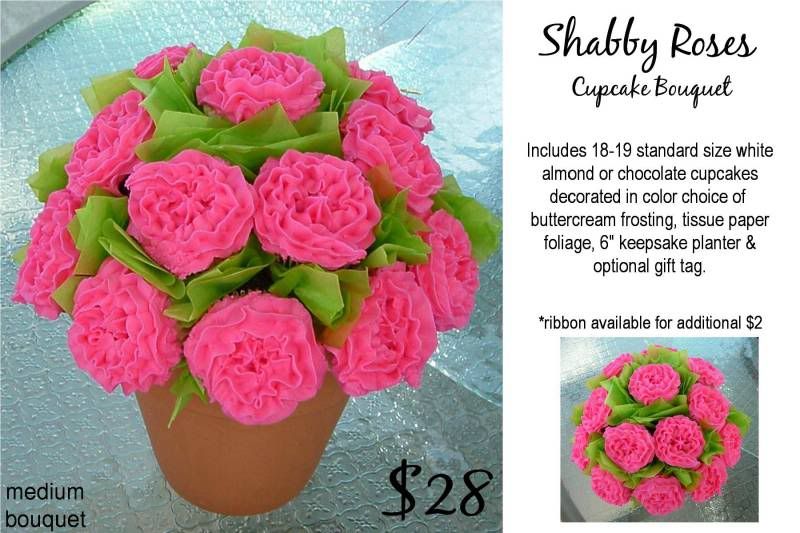 that sounds completly reasonable to me.

The yare beautiful. May I as. Are you using a D2 or M1 tip doing those?
Man those r gorgeous! Well to do pricing u need to know how much ur supplies cost u, how much u want to make an hour, and how much profit u want to make. R those regular sized cupcakes or minis? If there reg size it will prob b 2 to 3 dollars per cupcake then extra for the pot and ribon and anything else. Id say if those r reg size cupcakes ur quotes r a little low
I have a hard time with pricing, also, but that defintely doesn't seem over-priced to me! Especially, since you're including the pot and tissue paper. The cupcakes are absolutely beautiful! How do you have them supported in the pot?
@ -Sweetheart- Thank you! I'm using the M1 tip to do them.

@ durell87- Thank you SO much!!
I've been really surprised that I have had such ease starting off on this new venture. I must say, it's quite enjoyable!! These are regular sized cupcakes. I was thinking maybe my figures were a little low, b/c I was trying to think, "what would I expect to pay if I were ordering these at a bakery, online, etc?" I think I could get more than what I'm asking (& I haven't officially told anyone a price yet), but at the same time, I wonder if they'd run in the other direction if I am overpricing them? Kwim? But, my husband says, "if you don't make any money off of it, then what's the point of doing it if you're just GIVING your work away?" Point taken. Any additional advice you have would be most helpful!


Thank you SO much!!

Shona
@ angelwings1- Thank you!!
I have them supported with a 6" styrofoam floral ball, BUT, I recently discovered the "souffle cup technique" here on CC, which will be FAR cheaper to do, being that the styro ball is $4.27. I'm learning a LOT online, especially HERE, since I've started doing this. I did my very first cake for our daughter's 1st bday this past weekend. Her birthday was actually the whole reason for starting all of this... b/c I just really didn't want to pay $125 for her cake, if I thought I could make one myself. Ya know? LOL

This is her cake & "smash" cake that I made.



And this is another CCBouquet creation that was made for a friend for free for her daughter's 15th birthday party: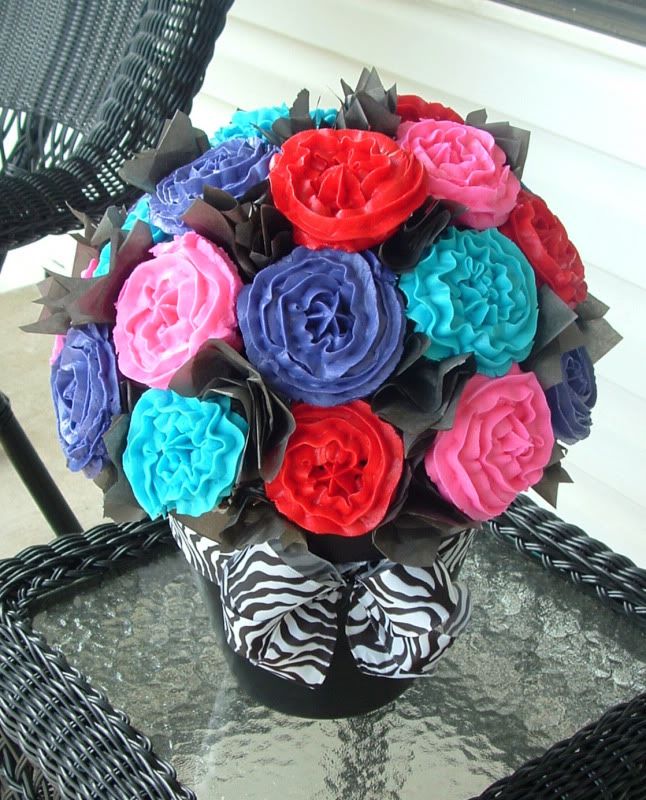 So after all of my blabbing (LOL) any ideas on what to charge (estimate) for these types of cupcake bouquets?

Thank you SO much for your help!!

Shona
I'm sorry I can be more help with the pricing. I have a hard time with that, too. I can't get over the fact that you're new to this, but doing such amazing work! Do you mind if I ask what the souffle cup technique is?
I'm don't know about the laws in your state, but I have to use FDA approved tissue paper when it touches food and the colored paper is not cheap, especially when you have to buy a large quantity of each color. My suggstion is to check with the health dept and factor in the cost of the FDA approved paper. Your work is beautiful. You are very talented.
hmm ok so i have a little more time to devot to this now lol. my son was climbing all over me before and i was trying to answer thru the web on my phone which is why i couldnt see that you had put down these are standard size cupcakes. ok so the very very best way to do this is to figure how much your supplies cost. for example if you buy a 4 pack of butter for 3 bucks but only use 2 sticks for a dozen cupcakes then its a 150 for the butter for a dozen. you do this whith all your ingredients and then divide by12 for a dozen or 24 if thats how much you make per batch. now you know how much it takes to make one cupcake. oh and dont forget the paper or foil liners too!. then figure out how much time it took you to make everything and times it by how much you want to make per hour then take that number and divide it by how many cupcakes and add that number to your supply number. this is how much it costs you to make a cupcake. anything ovver this number is profit! whoa that was a lot and i hope it made since. if you want something easier and a quick answer id say at least 2 bucks per cupcake plus how much the pot and paper and ribbon was. 2 bucks is still low for a lot of cakecentral users lol
so for the top one with 8 cupcakes id say thats $16 for the cupcakes + $3.00 for the pot and $3 or $4 for the paper and ribbon. so id probably charge$25 for the top one. again these are estimates i have no idea how much the pot cost you or your supplies or how long it took you to make these. they are really beautiful! The shabby rose one is easily $40 bucks dont short change yourself or you will lose the love of decorating because if your working for free you will get discouraged. you definitly deserve a profit on these. again i even think some of my numbers are low so really try to figure out some numbers that work for you and dont worry about what ppl will think when you say this is 40 or 50 bucks. trust me if they want it they'll pay. and there not just paying for any old walmart cupcake there paying for all the love and time and thought that went into each and every piece on that bouquet! i wish you the greatest of luck and sorry this was so long!
Thank you SO much, durell87!! That was VERY helpful!
I make these as well and use tip 2D.
I make these as well and use tip 2D.