I originally thought two layers of fondant. Then this morning it hit me...maybe it should be cut and inset. I'm doing a 6/9/12 with 2 6" satellites. The 6"s and 9" will be dummies the 12" will be the only cake. So what do you think?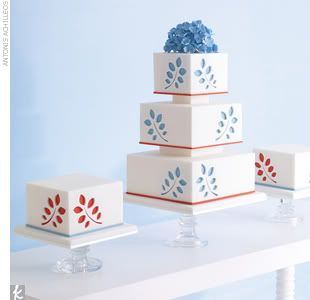 [/img]
Is this for a party/wedding or is it for a diplay? Hard to say I am not understanding the dummy cakes, what are you trying to accomplish?
sorry, i got distracted when I was typing this. It's for a wedding this weekend. I've had it planned in my head for so long on how I was going to do it. Did a small run through, then BAM! it hit me this morning...why am I doing two layers? Maybe I should be using an exacto then insetting the color. So the 12" will be the cake to be served to their guests. The 12" is already baked. To be filled tonight when the kids go to bed
All decorating Thursday night into Friday night. Delivery 3:30 Saturday.
I think you place a piece of fondant the color you want to be exposed on the cake first then cover it with fondant and cut out the design. Dummies are real easy to use. I have used them with cake when they want much larger than they need.
i wouldn't cover the cake with color fondant just a small piece in the corners. Wasn't sure if my first post explained it that way. Sorry. good luck they are pretty.
or just buttercream the color under....
First off, I LOVE this cake. The squared edges are fab!
I would do two layers of fondant. Mainly to get the edges to be as strong as possible. If you just did a small piece of fondant under the white you might see that and have a weird bumpy mess.
This pictured cake to me looks like they are all dummies. Those corners are crazy perfect!
I think the hardest part would be to get the dummies to look the same as the real cake. (the edges)
that's my fear malene541. but you gotta go with it. I was even thinking of just wrapping the color around the outer edges. I thought that might help eliminate (as much as I can)any rounding on the top. The panels of color just underneath I think would leave a slight a bulge or dent. I've already set the bride up to "the edges won't be this sharp". She's in love with this cake, it's her dream cake she based her entire wedding on this cake's colors. NO PRESSURE!
definitely looks like two layers.