How do you all offer your tasting? Do you do cupcakes, slices of cake, already filled of just with the filling on the plate.

Also, when starting out did you market to wedding coordinators? Was it beneficial to do this.

And do you have cakes frozen that you offer or do you cook the fresh for each consultation.

Thank you
everything I bake for my tastings is made fresh to order (because the wedding cake will be too), I make them in the form of cupcakes (I cupcake per flavor per person) and put the fillings (1 tbsp. per person) into piping bags and tie the end up with a rubber band.

At the tasting I supply paper plates, forks, napkins, and bottled water and snip the ends of the piping bags and they can squirt the filling on their different flavors of cake, so they have the option to mix and match flavors at they see fit.

I give them up to 4 flavors (cake and filling total), and ice the tops of the cupcakes with buttercream, and give them 4 samples of each flavor and charge $20 which gets applied to their final balance if their order is over $100.00
We do mix-and-match tastings...we charge $30 for up to 3 cake flavors, 3 frosting flavors, and one filling. We make fresh 6" rounds for each flavor and use a cookie cutter to cut out a number of small rounds. The customer can then try any cake flavor with any frosting and/or filling.

We keep a number of small deli containers and plastic clamshells on hand so the customer can take home the frosting and cake.

Here's a picture...we don't have a retail shop and our commercial kitchen is not in a convenient location so we do all our tastings at our home.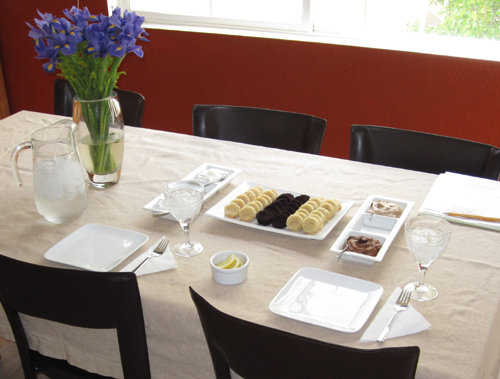 Jason Kraft
Business Manager
Let Them Eat Cake, The Allergy-Friendly Patisserie LLC
http://www.allergyfriendlypastries.com
Well, I'm getting ready for my first wedding tasting this weekend and I am baking everything fresh since I don't have a retail location nor do I have enough volume to even anticipate freezing to be a good idea.

I am serving cake portions and fillings/frostings on the side. If they want to try chocolate with strawberry buttercream, they can. That way, they can create the flavor they want.

I'm taking 4 cake flavors, 4 fillings and 4 frostings.

I am interested in the wedding planner question, If been thinking about how to approach the question.
I did a cake tasting for a wedding/party planning class. My friend was a student so she had me come to the class. Everyone loved the cake and I thought It would be a get way for me to get my name out there, but there has not been much business from them. But it wouldn't hurt to send out a email to the local planners about your business.
Quote:
Originally Posted by mindy1204

Also, when starting out did you market to wedding coordinators? Was it beneficial to do this.

In the next issue of Cake Central Magz, I have an article on marketing to wedding vendors. The article includes an interview with a wedding planner. It's a whole lot more involved than "Taste my cake .... here's my card".
Thank you! Debbie this maybe my first edition of Cake Central magazine!