I'm making a cake for my daughters painting party. Her invitations looked like paint splatters: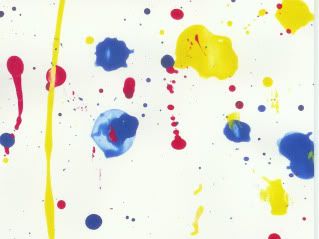 and I would like to recreate this on her cake. I'm pretty new to cake decorating, so any help on how to go about doing this would be great. Thank you all so much!
I say cover the cake in white fondant and thin some gel color down with a bit of water or use airbrush color and get a piant brush and do the very same thing.Splatter the color on the cake like you would with paint.My mom and I did this one time with a ceramic cannister sets we were making and they came out stunning...I still love that set to this day and that was 25 years ago...
Oh how FUN! I wanna do it. haha.
Thank you. If I use a frosting instead of a fondant, will the gel color bleed into the frosting?
You can splatter food color on a cake just like this. You'll find in caking you can do the same stuff just with a food safe medium. Happy cake painting.!!!!!
I would think with a crusting buttercream it would be ok...................
I did it for an art teachers birthday cake and I used wiltons paint. Oh crud I can't remember what they call it. I think it was paint. It has the consistency of washable art paint from school but was made from sugar of some sort. I will go look and see if they still make it.
I couldn't find it on their website. I would be worried that watered down gel coloring would run though.
I am thinking I would play mad scientist and mix buttercream and corn syrup with gel coloring and water down that a bit.
I've done that with royal icing thinned with water. I'm guessing you could do the same with really thin buttercream. Just dip an old toothbrush (sterilized and washed - of course) into the thinned icing and "splatter" it on the cake. It's fun!
Good idea heavenlys add the gel to corn syrup!!!!!!!!!!!!!!!!!!!!!! Less run that way.