HELP! I just received an order for a neutral baby shower cake for next Tuesday. I am going to be out of town for the weekend, so I will only have Monday and most of the day on Tuesday to work on this cake.

They have no idea what the baby is, or what they are doing the nursery in. I am having trouble coming up with a cute idea.

It only needs to feed about 20 people, and I don't have the ball pans to make the preg. belly cakes.

Anybody have any ideas????

Thanks!!
You could do a onesie cake in the color yellow or a light green!! All you have to do is carve it out of an 11x15!! You can put buttons on it instead of a ribbon.

Here's one that I did:

http://www.cakecentral.com/cake-photo_1333669.html

HTH
This was only the second "decorated" cake I ever made, which tells you haw easy it is. If you have a large rectangle pan you can just cut the squares out of it or you can use a square pan. It is pretty simple and is definitely neutral. It was pretty easy to decorate and not really time consuming. I hope the picture isn't too dark and it helps. I have another neutral baby shower cake but I can't find the picture. If I do, I will post. =)

I made this blue and pink one....bears and buttons
It's very quick and not difficult..
HTH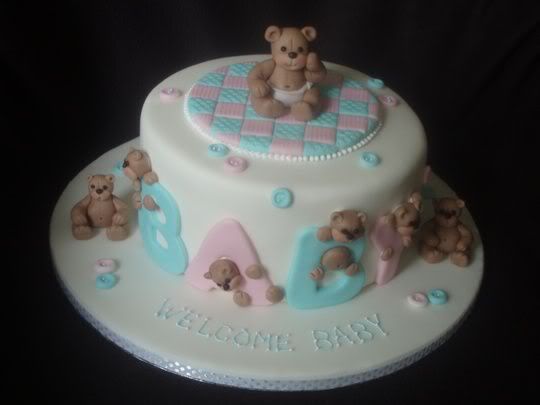 [/img]