So a friend of a friend asked me to do a baby shower cake for Sunday (yeah I'm that go to girl)

I got a photo- off a phone- for something to follow....

She's very open- but wants the Congratulations! on there somewhere...

And buttercream. But other than that, she's open.

We had talked about a 10" square (which is now a pan I get to go and buy!)

I'm drawing a blank. How sad is it!?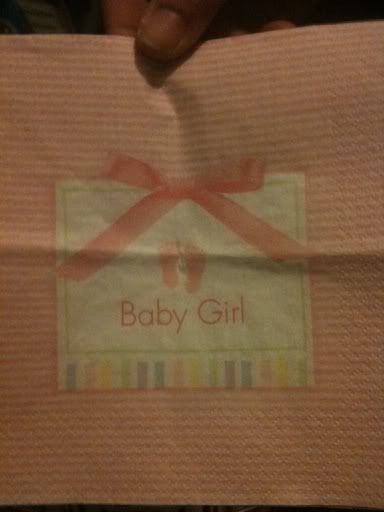 Ice entire cake in the pale pink of the (is that a napkin?)

Along the bottom border, make a stripe of white and then add the little vertical stripes of the colors along that.

On the top of the cake, make an 8" white square in the middle. Pipe a very small reverse shell border in the green, just inside the square.

Put the pink baby feet in the middle of the square.

Pipe "Congratulations" above the feet and the mom-to-be's name (or mom and dad to be's names) below the feet.
Wonderful!

I've got it!

We talked a bit more (she finally talked to the mom to be) and we're doing a 2 tier 8"/6" with a big pink bow going from the top of the 6 cascade to the 8", on the 8 there's going to be the vertical striping to the 6", the 6" will be white with a set of pink baby feet on either side of the congrats...

that is my weak point, I have a hard time coming up with a design on the fly. as usual you cake ladies are on it!! thank you!