This may seem like an odd question. I am trying to figure out how to make a satin ribbon look good around the bottom of a square cake? I have done a couple of cakes like this, but when I pull the ribbon tight, it pulls in the corners and ruins my nice clean/straight edges. Anyone have any suggestions? Thanks!
Don't pull on the ribbon. Instead, us a sponge-tip paint brush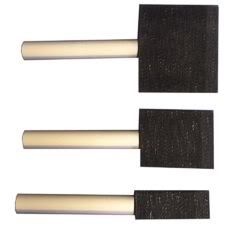 to gently "irong" the ribbon onto the cake as you go. Start in the center of the bac with the end of the ribbon and slowly push the brush against the ribbon to apply it to the cake, "unfurling" the ribbon as you go.
I haven't tried this yet but a tip I read here on CC was to line the back of the ribbon with either contact paper or tape and, once this is on the ribbon, bend the ribbon where the corners are to make a creased corner so it doesn't round the corner off too much. I have this issue coming up in May with a square cake with ribbon, this is what I am planning to try. Hope it works, all the best...
I just put a crease in the ribbon at the corners. It hugs and looks very nice.

Jen
agree ... don't pull on the ribbon. I also use the crease method.