My daughter's 3rd birthday is at the end of the month and she is having a princess and pirate themed party. How the heck do I make a cake for this? I am officially boycotting fondant and MMF for this party. The last 2 years my practice cakes looked amazing and the actual cakes looked like garbage. I am definitely not a professional, but I do fairly well when I try something. The invites had Disney characters on them, but I'm not dead set on incorporating them into the cake. Here is a pic of the invite (without personal info).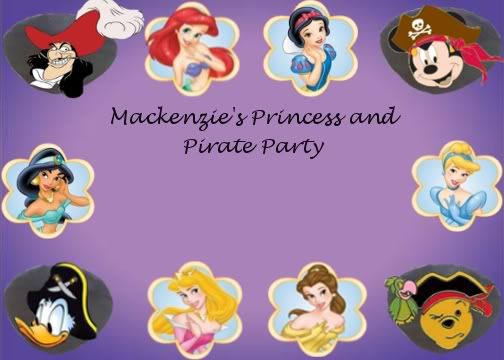 Interesting theme! Here are a few ideas off the top of my head:

1) A princess castle being stormed by pirates/ships around the moat (This may be tougher to pull off with just BC)

2) A princess with a parrot on her shoulder, treasure chest, bandana (or girl pirate in a princess gown)

3) A cake with the two unique themes (either on diff tiers or a sheet cake with a diff them on each half)

4) A pirate ship loaded with girly princess 'booty'?

5) A pirate ship with a princess crew?

I guess I'm reaching now! I hope this helps even a little.
Good luck! I can't wait to see the finished product!