Ok, I am getting a little annoyed here. I don't know what am I doing wrong but every time I try to reply on my thread I get an error message and the whole thread disappears!
I really wanted other ppl to be able to read this to get ideas. Anyway,
Dominic, yes I have plenty fondant. And also what amount of the copy-flex do I order. Do I order anything else or just the copy-flex?
Marzi, I am resubmitting this initial checklist to regain some background to this thread.

Why don't we make a mold of the whole barbie? That way you can use the mold for both torso pieces and whole body pieces.

Since we need to get this project done by the 14th/15th., I want you to start making preparations now so that when the CopyFlex arrives, you will be ready to pour. Normally, I like to use Safe-D-Clay when making a two piece mold, but I think we will use fondant to save time. Do you have some extra fondant you can use? You are going to need about a pound or two.

1st Step - take the Barbie and look real close, you should see a parting line running up one side of the doll, over the head and down the other side. We are going to use this line to define the two mold halves that we are going to make.

2nd. Step - Go To - http://www.makeyourownmolds.com/how-to-make-3D-mold. This is a good outline of the method we are going to use to make your mold. I will be changing some things for your particular situation and time requirements.

Marzi, after reviewing this post, let me know if we are good to go. Did you find the line on the doll? Do you have a general understanding of the process after looking at the web page?

I got your message that you have enough fondant.

Dominic
Ok hopefully this will stick!
Yes I do see the line on the doll. I looked on the website too before and just now again, it doesn't seem too difficult, but I am scared to just jump in! Now that you are helping I think it's gonna be great!
I am going to make this mold with you. Please take a picture of the doll and let me know where you bought it. I will get the doll and then be able to send pics for you follow along.

Dominic
I bought the doll at Toys R Us, it's called the Barbie and the three Musketeers (mini Barbie). Comes in different colors but it makes no difference, I got her undressed. I can't post jpg format pics in the forum for some reason...?
Here is a link
http://www.toysrus.com/product/index.jsp?productId=3511878

How do you post pics here, Photobucket perhaps?
I am on my way to Toys R Us to get the same doll. Tomorrow morning I will give her a haircut and post some pics about getting started.

Dominic
Hahah, off to shave my doll!
Good luck at Toys R Us!

Before the shave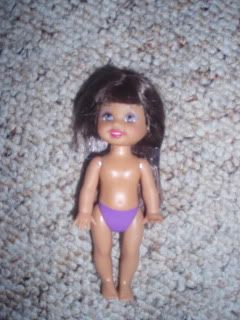 Marzi,

I am ready to begin your lesson. First, I want to explain something. I cannot make a mold of a Barbie which is a copyrighted design of Mattel Toys. There is a code of ethics that we mold makers follow and respecting copyrights is definitely high on the list. But do not worry - I have a doll that is not copyrighted and will use it as my teaching aid for your lesson.

So, shall we begin?

Have you given your doll a hair cut?

Are you ready to start?

Dominic
Yes I shaved her, and I am ready!


Oh yes and I ordered 1 lb of copyflex yesterday.
Marzi,

Just got a rush order of tallow pieces for the US Army. I will start tomorrow morning with pictures and your first step, Okay?

Dominic
Please post more pictures, I would be really inspired and enchanted to see them!
I want to see the product from that doll mold.
Can anybody please update pic of that chocolate?