I am going to make this cake for a friend's baby shower this weekend. It needs to serve 50 people. I am so undecided as to what size pans to use. Each cake will be 2 layers (1 filling).

Also...I am making the carriage tonight using fondant w/ lots of tylose. Do you reckon this will work? Then attach it w/ skewers attached w/ white chocolate?

Will a 10" and 6" be enough...probobly not, right? HELP!!!!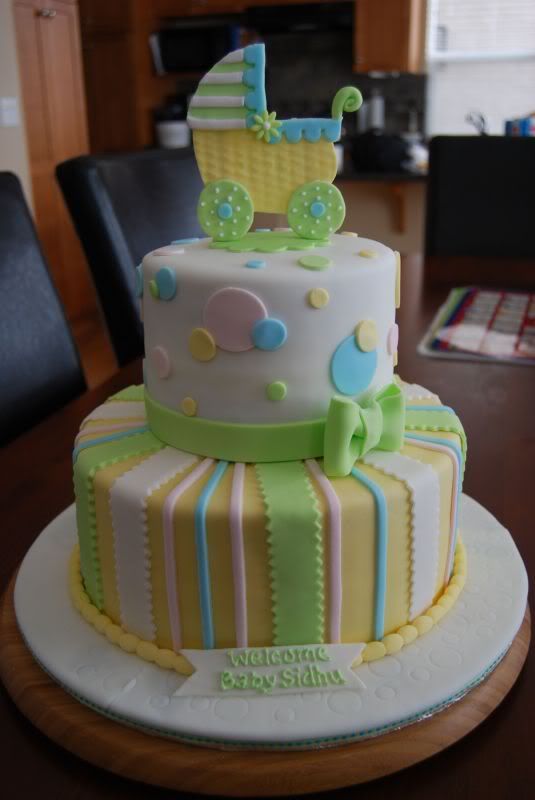 10 x 6

If you wanna play it safe for the buggy I'd do it on a cookie--even gingerbread sans the spices and use honey instead of molasses. Fondant will work--make several buggies--I just add a bunch of cornstarch it's cheaper.

Sturdy ideas for you.
K8Memphis...are you saying the pic is 10x6 or will 10x6 serve 50? I know this pic is 10x6...just unsure of how much that would serve.

More replies will be helpful!
If you want to be safe, you can do a 12-8 for 60 servings, or you can do the 10-6 for 38 servings and make some cute little cuppies to make up the extra servings.

For the baby carriage, I'd make it out of 50/50 fondant/gp mixture several days in advance. If you make it thick enough, breakage shouldn't be a problem.
I was using the Wilton wedding chart where a 10 x 6 serves 53 1x2x4 inch servings.

The reason I use the wedding chart is because I have been to showers and other events where the cake was sliced so that they could actually get 70-75 servings from a 10x6.

So use whatever figures you want~~that's how I do it.
THanks! Ya'll been a big help!