I have only done cakes for family and freinds. Well I have a co worker who would like me to do a Anniversary cake.

Ok I dont even know where to start....I use box cake...is there a normal per person that should feed. I just did a cake 2 (2 boxes)layers covered BC and fondant flowers.

Do you charge a certain percent over what it cost you to make it??

She said she needs something for 85 people..put doesnt want any extra....

I am going to try and post a picture..

What would you of charged for this...BC fondant flowers (2 boxes) of cake mix.

Thanks so much.
I am really bad at what to charge and feel I under charge but still lose out on cakes.

I do have to ask it that 2 cake boxes per tier or for the whole cake. 2 boxes of cake mix isnt going to be enough for 85 people, atleast not the way I make cakes.

Good luck!
Here's a chart for servings by tier size: http://www.wilton.com/wedding/wedding-cakes/wedding-cake-data.cfm

Looking at the chart, a 12" tier and a 9" tier would serve 85 people. Of course, you're talking more than two boxes of cake mix
but you might like using one of the mix extender recipes, not just to add volume, but for the taste and texture too. http://cakecentral.com/recipes/2322/white-almond-sour-cream-cake-wasc

I didn't see the picture of the cake you were trying to attach. Most people charge about $2 per serving for buttercream, more for intricate decorations. It varies a bit by area and skill level...but don't undercharge too much or you'll become known as the cheap cake lady.
ok I just cant upload pics...so here is a link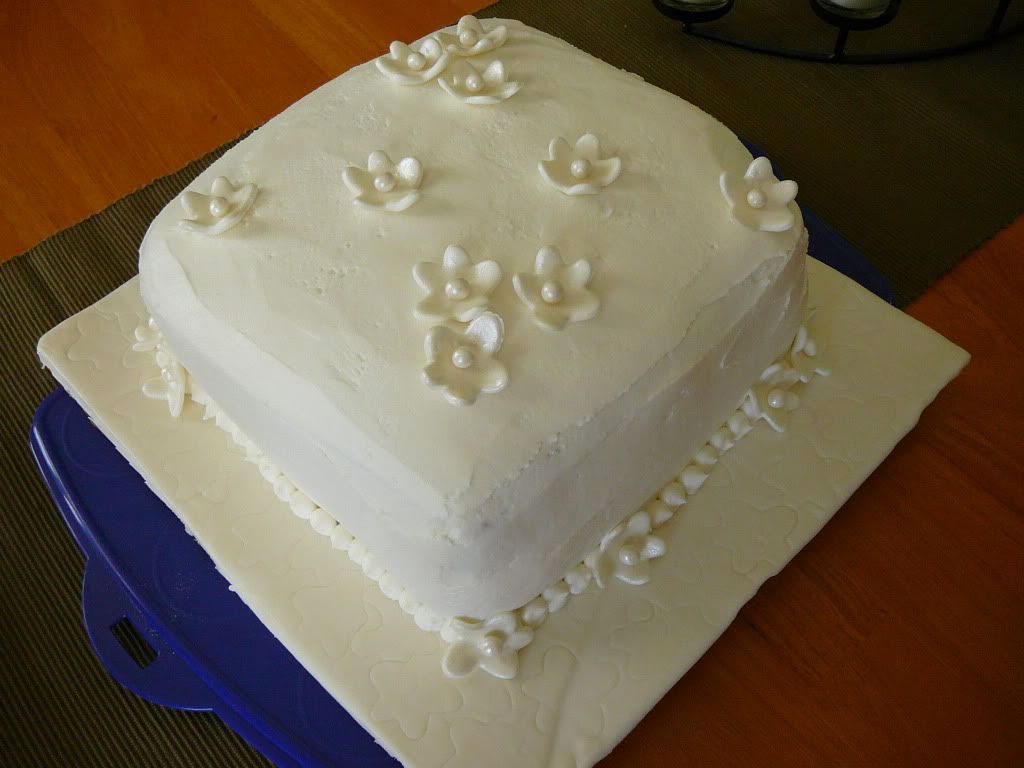 So how many boxes would it take??? I have never done that many and what I did in 2 boxes seemed to be alot?? not for 85 but alot....

So how many per box???
Thanks again
That's a pretty cake.

If you were making a 12" tier and a 9" tier, two layers each to get the number of servings you needed, it would take about 25 cups of batter. The amount of batter each cake mix makes varies a bit by flavor but the average is usually around 5 cups, so you would probably need 5 mixes.
Is that a picture of the cake they want? First off, it is hard to get an eaxct number on cake. For example."I only want a 6 serving cake", well the smallest cake for me is 6" and that serves 12 and they have to pay for 12 servings, period. So if she doens't want to pay for more servings, she can pay for less servings. DO NOT make a cake that serves more and just charge for 85, just cause thats what she wants to pay for. By the way, a 9" & 12" serves 88 and require 26 cups of batter.
No that is not the exact cake they want that is just the one I did and would like to know how much you think you would of charged?


Ok for 12" and a 9" w/5 boxes how would you do that?
As far as not wanting to pay for more..she doesnt want loads of cake left over is what I meant..
I have never done a cake this big before.....Can you do a more flate cake instead of going up in height....sorry just trying to make it easy..
I am not sure if I will be able to do this...I have my twins b-day party and 2 cakes to make for the same weekend......I would love to do it..I love the challage....love to get the chance to do something like this....just dont want to get over my head...
I don't bake from mixes, so I couldn't tell you how many to use. I figured you would know how much batter a mix makes, so I just gave the amounts needed.
I am not sure how much it makes...I dont know if it states it on the box...I just have never thought about it...I have been doing them for my kids family and freinds for so long for fun cuz I love doing them and them lovin them also.....I never had a need to so many people before...I have never made a cake for over 20.
just to throw in the legal issues of being allowed to sell cakes... maybe something to think about.

to figure out your costs, sit down, work out how much your ingredients will cost, how much it costs to run your oven, fridge, car to the store, extras like food dye, cake boards, kitchen roll and cocktail sticks (all the stupid little things you hardly even consider - washing up liquid!), and then put a price on your time. and look at what other custom bakeries charge for similar work. most people charge a minimum of $2 a serving for bc, but some charge much more, especially as designs get more intricate.

you do sound like you will be very busy that weekend, do you really want to take on an extra project that size? as long as you have time (tha is a lot of time, and careful organisation), and the confidence in the basic abilities you should be fine.

it is fairly easy to stack cakes, especially if you do go for the two teir look. if you are happier doing sheet cakes, then an 11x15 gives 74 servings, 12x18 gives 98.
xx
and remember to get the details before giving a price! you dont want to be doing 100 gumpaste roses for $2.00 a slice! make sure she knows that changes = price increases!
xx
My house cake was for 50+ people and I did do straight box mixes on that one since it was my largest cake to date and she wanted two sep. flavors.

I used 12" square pans and 4 boxes of cake. 1 box per layer, it was a four layer cake with three layers of filling and was a little over 4" tall. In the end, alot of people left before she served the cake (I had to offer to cut it because it was just sitting, sitting, sitting, while people were leaving), so only about half the people were still there. Half the cake was gone after serving everyone that was still there.

It took 3 batches of the buttercream recipe I use, so keep that in mind, too. More area to cover with buttercream, fondant, decorations, etc.

I only bake for family/friends and don't charge so I can't help you there.