Used 4 6 inch rounds - no tiering but impaled the cake to the board. Everything is edible. Hurry! -lol Someone wants another one and I think the first was under priced at $120. The market here will bear quite a bit.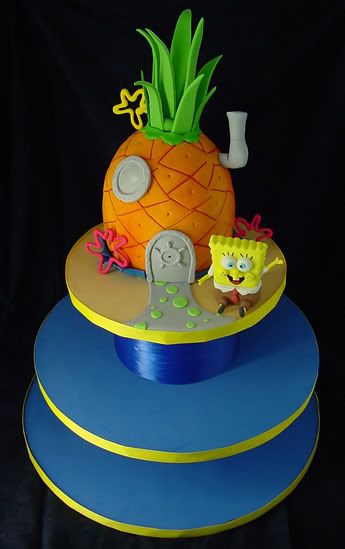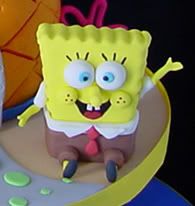 Not the stand - just the cake and SpongeBob

(Sorry I posted this first down in the busines forum but then realized it may take a while to get responses there)
I don't know but if you use the average serving size a 6" serves 12 and a 4" maybe 8 so $120 is $6/serving - that seems like a pretty good price if you can get it - there is no way I could get that around here. How much were you hoping to get?
If the market can bear it, you may be able to get closer to $150.00. That's certainly a lot of work! I couldn't get that here in Southwest MO, but if it were possible I would....
That cake is exquisitely done. Around $100-$120 seems right.
It's an amazing cake. If you can get $120 it would definitaly be the way i'd go but where i'm at i'd be lucky to get $60
I probably would charge around $75 or $80. I'm sure your aware that the price will diff. from city to city. If you cant get more than $120 then good for you!!!!
I agree it's probably worth alot more than I could get where I live...that is ALOT of work and beutifully done! I would love to get 100.00 for that but I would probably only get someone to pay around 60.00-70.00...at the most 80.00.
lovely work!
I think $120-$150 depending on the market.
I did not price my cake properly at first- but now i've learned my lesson.
People don't realize how long it takes and birthday cakes take as much labour as wedding cakes.
Your cake is amazing!! Great job!!
I barely started pricing $10-$15 higher than normally and ppl are still paying for the cake. There are allot of ppl that dont like store bought cake and even in today's economy ppl are still wanting quality!