Hello,

I have only watched the 3 original Star Wars movies. My friend's son requested a Star Wars: Clone Wars cake.....My problem is that I've never watched it. I think this is the animated film but not positive. Are there Storm troopers in it? I noticed several storm trooper helmets in the gallery and I'm thinking of attempting to try one....but I want to do something else as well because I'm afraid I don't have enough experience to do the helmet. Does anyone have any suggestions?

Thank you so much!
Amy
)
Yes it was an animated movie and yea there were storm troopers in it. Sadly I fell asleep in the middle of that one lol. You can go on google images and looks for some scenes, maybe that would help.
the main characters, of course, are the clone troopers, which have a different helmet style than the stormtrooper. if you go with the clone, then choose the one with the blue stripe, 501st clone...it's named after our costuming group, the 501st legion!
Here is a clone Wars cake from Cakewrecks.. Looks pretty easy.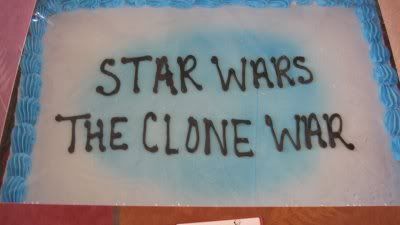 Hhahahah
JaimeAnn.....Funny!


Thanks everyone! I'm going to attempt the clone trooper helmet and have some backup cake in case it doesn't work.....I thought the new one was the blue strip on the helmet but I wasn't positive.....Thanks...I really appreciate it!