I am trying to make a ground hog cake, I used the origianl WASC recipe, but it only made enough for 2 6x2 pans and 1 6x3 pan. I needed one more 6x3 pan, so I made a betty croker (scratch) single layer cake. I stuck a nail in the middle like I had seen here for the middle to cook. After checking on it it fell in the middle. What did I do wrong?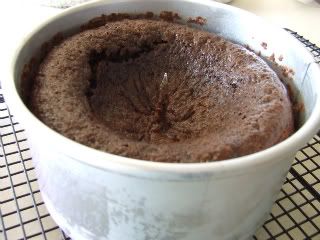 Okay talking to myself (relying to myself?) I just tasted the cake, yuck, I'll use something else. How long does batter last in the fridge? I need to make just a part cake recipe.
Usually this is a sign of too high temperature - the cake starts to bake too quickly, builds a "dome" and when you check it /or even take it out of oven/ it falls down. A scratch cake is more likely to make this, because the box mix cakes are made to be "foolproof".
What temperature did you bake it on?
Hmm that was probably it then, I baked at 350 like the recipe said, but the recipe also was for a flatter cake. That's okay though, if it didn't fall, I probably wouldn't have tasted it and boy, yuck.
I always bake all my cakes at 325. It takes longer but they rise more evenly. And if you opened the door with it not real done in the middle, it will fall. For a 6in I would do 325 for at least 40 min before I open the door to check it.