Hi, I have been reading with great interest all the bridal show posts. They have been a GREAT help to me. I had my first real bridal show last sunday. It was amazing that everything came together, but it did! I had business cards, colored post cards with photos & info, posters and picture boards. I served mini cupcakes on a cupcake stand which worked out wonderfully. I also did a brown and green theme, I had an avocado chefs coat and brown table cloths. My business cards and post cards were also brown and green. I got many positive comments on my booth and made some great contacts with other vendors. One vendor came at the end and told me she was polling people on their favorite cake and they all said me.... that was a nice confidence booster! One lady had huge pieces of cake and I just had little bite sized cupcakes and it still was good enough...yay!
The picture boards on easles worked really nicely because people were lined up and could slowly file by, looking at each thing as they came by.
Anyway, I know you all want to see pics, so I will see if I can figure this out. I did all the dummy cakes in like 4 days after work. Needless to say, I was pooped in the end, but it was worth it.

Thanks for looking!
Cheryl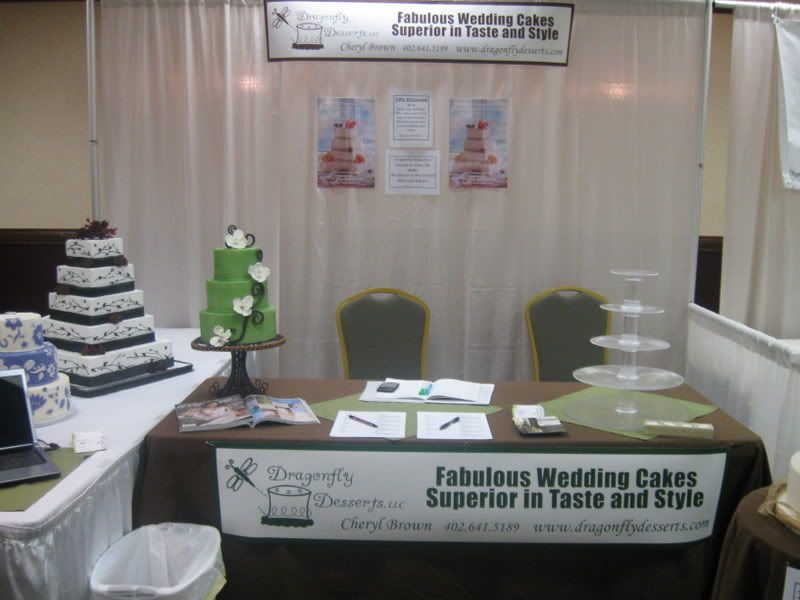 great info and pictures, thanks for sharing those. im doing mine this sunday. So... your samples were cupcakes on display, i have that same stand and considered doing that. did people eat them right there? im still unsure how to do mine and am considering all the options. those of you that use portion cups, what size do you use, 2oz or 3oz cups?
I'm embarrassed to say that I was most impressed with the stand the green cake was on!
What a great piece that went so well with that cake! You had a really good size booth, too. A wonderful display!

Sweet cakes, I use the 4 oz styrofoam cups. This is big enough for a 1" square and still leave me room for icing. When I looked at the 2 and 3 oz cups, they just didn't have any icing room in them. I cut the cake into 1" cubes, then drop the cubes in the cups, THEN put a blop of icing on top. (I don't even try to make them pretty .... it's a SAMPLE.
) Easy-Peasy!
sweetcakes, some people at the cupcakes right there, but I had people and vendors taking them all over the place. They were SOOO quick to make too. I made about 500-600 of them. I froze them overnight and that morning pulled them out and squirted a little dollop of frosting on them right in the containing and covered them back up. They were so nice and moist and fresh. I frosted those 600 cupcakes in less then an hour...maybe even 30 minutes and no more messing with them, no cutting or anything. I just thought cupcakes would make a nicer display and they are so in right now.

Also, definately have pics of cupcake weddings you have done, because I got tons of questions about those. Fortunately I had pics on my slideshow.

And thanks for the trashcan idea.... everybody was throwing there stuff in my can. That's how I knew what cake the other vendors had because HUGE hunks of cake were going in the trash can.

indydeb.... I didn't really have time to notice HOW well the stand went with the cake. I grabbed it at the last minute.... just a stand I got with a bunch of cake stuff I bought... but it is cute, isn't it
Just wanted to well done
your stand looks great....I particularly like your square cake with the brown flowers.....then I saw your blue and white cake, now I have to say they're all lovely.

Beautiful work. I love your style.

Congratulations on such a successful day.
Your whole display looks so professional and inviting. I like all of your cakes, but something about the periwinkle and white one just grabs my eye. The pleating on the white one with the black ribbon is just snazzy!