Yay--it's behind me now. I am SO tired but the "I Do" bridal ahowcase 2009 is over and done. Didn't have a booth, just an 8' table but it worked. I am posting a pic of the table and a close-up of the candy buffet we also do.

I received the names and telephone numbers of 15 interested brides.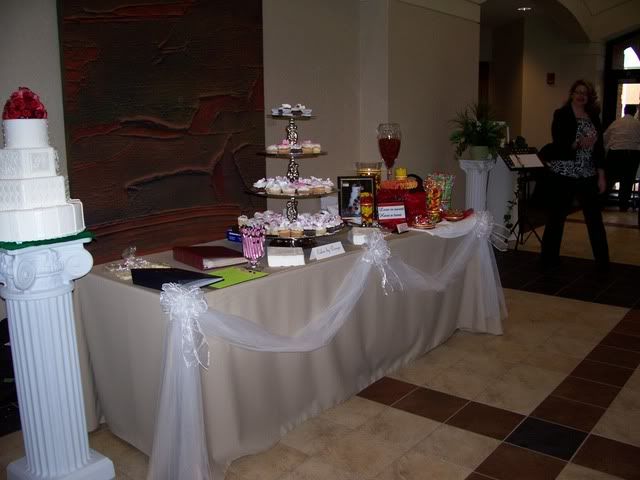 Your table looked very yummy
Good for you! I hope the brides come through for you!!
Your table looked great. How does a candy buffet work? Do people have them at weddings? I've never heard of it.
lovely display, where the cupcakes in the middle your samples too?? love that CC stand!!
Yes, the candy buffet is becoming a big trend here. They can be all kinds of candy or specific colors of candies (IE: all pink and white candy--those are more expensive b/c you have to special order candy).

Other offers are cookie buffet--different kinds of cookies. Chocolate buffets--mini desserts that are chocolate or all chocolate candy.

We provide the containers, candy, decorations for containers or table, bags to put candy in, and the scoops for each container.

Yes, the cupcakes were for sampling--I made 420 of them, plus 280 brownie bites. Came home with about 100 of each.
Your display looked wonderful. The candy thing is a cool idea. Thanks for sharing. Good luck with the brides.
It was adorable!!! Great Job!
WAY TO GO Mac!!!...your display looks so yummy


Congratulations
that's so awesome........I LOVE the peach rings on the martini glass!!! Very clever Mac!!
What a great display! It's so cheerful and happy looking.
The peach rings on the martini glass was our "shrimp cocktail"
Thanks for posting the pictures of your table. How do you calculate the amount of candy you need and how do you price the candy buffet?

Thanks

Laura
Candy buffet starts at $4 per person...that's for regular candies...if they want the color theme candy or personalized bags, it's extra. I am not sure how my assistant figures the amount that we need...I let her handle that part