Can anyone help me with some wedding cake ideas for an Italian/Tuscan Theme? The only thing they know they want for sure is square and round mixed. Anyone? Help????
Wow, I would love to do something along the lines of this theme.......I would be doing a buttercup yellow with antique scrolls brushed with bronze luster dust to make them look older and authentic...... not a sunny yellow but something warm and rich and then aged a bit. I can totally see it in my head, lol, I might need to make some dummies and have some fun this week!

Thanks for the inspiration and have fun with your cake ~ what a cool theme.
That link is a really pretty cake but I would add lots of grapes. That's what I think of It/Tuscan.
I think she did a great job on it. I agree with the thought of adding more grapes. I loved the colors though!!
Thanks for the ideas guys. It's a good start but I'd really like to give them more choices if anyone has more. I don't know what their likes and dislikes are and if I give them more choices then I can get a feel for what they like. Anyone have more ideas?
When I think of Tuscany, this is the sort of thing I think of: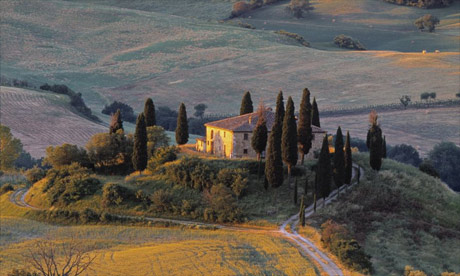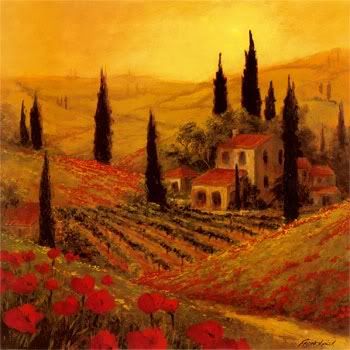 My first thought of a Tuscany-inspired cake is to render that sort of pastoral scene in cake. I'd put a little villa on the top and then have the layers spiral down with the classic trees like you see in Italy and vineyards on the sides of the cake. Sunflowers and bright red poppies also grow in Tuscany, so I'd include those as well.

My other thought, is to shape the cakes like a cluster of Tuscan urns with sunflowers, poppies, and grapes spilling out of them and figs and pomegranates and olives and more grapes clustered around the bases of the urns (like a still life painting).
Here are some pics of some of those elements:



And here's a wedding cake that is done to look like an urn:



If you wanted to do something a bit more distract, you could either paint or apply fondant cut-outs of poppies around the sides of one tier, sunflowers around another, and grapes around another.

HTH!
Love those pix!! I especially love the second one -- I could picture that drawn onto a cake -- very pretty!
thanks for the ideas everyone