I have my first fondant covered cake in a couple of weeks so I wanted to practice. I just made a little 6" cake and mmf (my first time making that). Let me know what I can do to improve. Of course, there isn't a border around it or anything on it. In fact, the buttercream underneath is pink b/c that's what I had on hand. I know for the real cake it'll be white underneath. I feel like the edges aren't very crisp, I'm not sure if that's normal or if I should change something. Any advice will be much appreciated.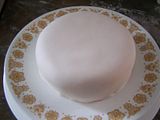 Sorry if the first one is out of focus!! Thanks in advance!

Angela
I think you did a great job for first time. Except for one or two wrinkles at the side which won't be visible when you put a border, I felt it is very good.