The past couple weeks I've been consumed with getting my kitchen in order. It was "doable" until I started baking our bread. Then, I hit a crisis for space. I was doing all sorts of searches in IKEA for a storage solution and just when I decided to buy a pantry from them, one came available on craigslist that cost WAY less and matched perfectly with the rest of the kitchen (not IKEA)

Fastforward through lots of work making room for it and getting it set up, and today I've been cleaning out the cupboards, loading the pantry and rearranging the existing things and also finding homes for all the "extra" stuff that was on the counters, top of the fridge, microwave, etc.

And.... even WITH a 36" floor to ceiling pantry, 2 feet deep, I have just ONE 24" shelf in my kitchen "unclaimed".

I'm looking around and I have about DOUBLE the average kitchen's storage and about HALF of it is for baking - pans, flours, sugars, sprinkles, nuts, dried fruits, decorating supplies, appliances... MAN!!! How did I get so much STUFF??? If I didn't bake, I could half my space needs - literally!

My son (12) and I did a google sketch-up of our kitchen. I have 42" high cabinets and they go to the ceiling (8 ft) a HUGE pantry now and an island and I've filled it... Holy moly!

We live in a townhouse, so there isn't other storage for kitchen overflow (no basement, garage, shed, etc). I DO have a storage room in the lower level but it's tiny and already bursting from other things (and I purge there twice yearly!)

Remember when people lived JUST FINE with just one or two cabinets?

Here are pics of my 10.5'x10.5' kitchen (still waiting to get the bookcase to hold my books):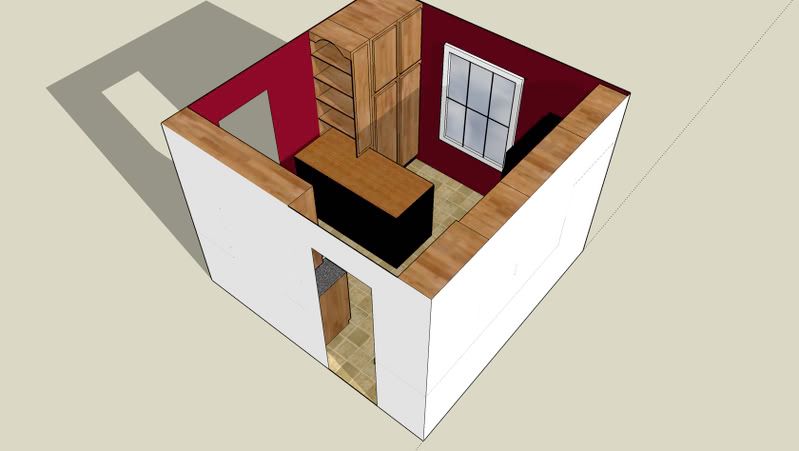 And here is a stock picture of the kind of pantry I just put in the corner: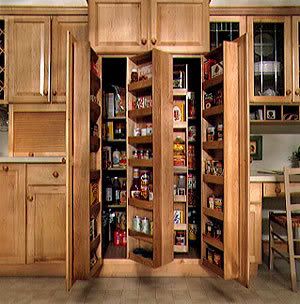 I need to stop looking at things! I was thinking of jumping into some gump paste, but now I'm afraid to!

Melissa

[/img]
lol..........love the sketch of the kitchen so cool.....how'd you do that??? The flooring you chose looks just like some vinyl peel and sticks I put in my old house, loved that floor!!
That pantry looks amazing!!!!!! Wonder if I could use one of those??? My DH would kill me!!!
It's a free program called Google Sketch-Up. My son got a book "Sketch-Up for Dummies" and just started playing around. He taught me and we learned some new things together and we did that in about two hours.

Because we weren't downloading components, the tile choices were slim, but those are pretty similar to what I have. Not peel and stick, but it is a vinyl floor. My walls are currently white with cranberry colored paint chips everywhere, and we all agree after making the sketch that we LOVE the red!

That pantry we looked at when we bought the house - but new (from Merillat) it's $2100. So, I bought a $100 used corner cabinet instead. Well, the corner cabinet was exploding everywhere, so I sold that to get the other things... and then when I opted for a $800 IKEA one, this one came up on craigslist for $300! I JUMPED! To have it match my kitchen is GREAT!

Back to cleaning! UGH!
Melissa
I agree with you on the red, it looks amazing!! You have so little wall space that you really CAN use a very bold color like that. so cool!
Yep, I've kind of filled the walls with cabinets!

I've now redistributed everything and I'm STILLLLLL full. Good grief. Though now I have lots of wiggle room everywhere and it's all super organized. I'll have to show everyone my new tips drawer! Now I need to learn how to use most of them!