Hi everyone,
im new, so if iv posted in the wrong section or anything please say.
i quite new to cake decorating, although i have done xmas cakes for a few years i did my first birthday cake (fairy castle) for my daughter in july.
the problem is my son wants one now to, and has decided on a pirate ship.
i have always used royal icing for covering hole cakes, and sugarpaste for figures and decoration, as sugarpaste is so sickly. all my cakes have been white so its never been a problem.
but the pirate ship has so be brown, and im at a bit of a loss what to cover it with

if anyone could help in giving me some ideas for somthing yummy to cover it with, id be very greatfull.
(i would like what ever it is to be able to be marked so it looks like wood)
anyway thanks in advance
katie
I would frost it with Buttercream and then buy some fondant. You can buy a small container of chocolate fondant and a small container of white fondant and mix them together which would make the lighter brown color that you need. Whatever you do, do not use Wilton fondant, it tastes awful. If you can find anyone where you are that sells Satin Ice, it tastes pretty good.
thanks for that, im in the uk, and i dont think we can get wilton fondant over here anyway.
is there anyway to do a icing that can be rolled and placed on? iv never really iced a cake with butter icing or fondant, not to sure how well id do at it??
thank you, sounds yummy
ill have a go at that tomorrow
you can get fondant from tescos. its not called fondant though, its sugar paste, rolled icing, something like that. its in a blue package and i expect you can get it from any grocery store like asda, sainsburys etc.

Are most of your cakes fruit cakes? just curious cause you say you always cover in royal? let us know how it goes, and post some of your pictures, we'd love to see them.
thanks,

i only ever did xmas cakes for our family xmas day dinner.
but in july i did my first birthday cake for my daughter (maderia cake) and i covered it in royal icing as it was a white castle.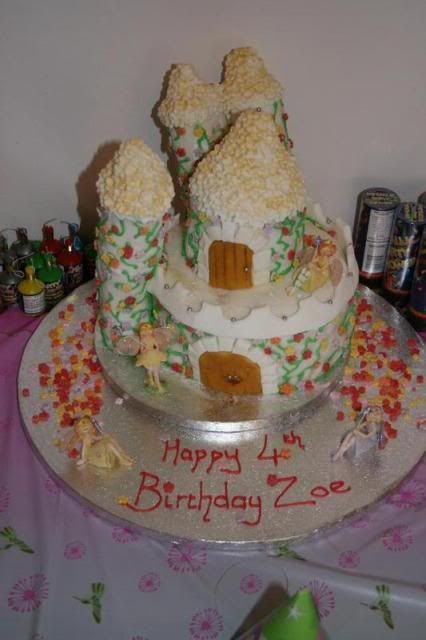 i would like to do a chocolate sponge cake for this pirate ship,
the only icing iv ever used is royal, but i have no idea how to get it brown,
so this is why im asking wha would be good to use.
I made a Pirate Ship cake a while back. It probably isn't EXACTLY like what you want, but I will give you some of my tips. I used the White Almond Sour Cream Cake recipe with the Chocolate Cake Mix substitution. I covered my cake in Chocolate Fudge Buttercream (I don't care much for Fondant). I used the Basket Weave Tip to look like wood planks. The picture is in my photos.

If you want the "wood" look and color, I would use brown fondant mixed with some white fondant. If you don't completely mix them together it gives a streaky look. Does that make sense? Hope this helps you.

By the way, your Fairy cake was adorable!! Good Luck
Hi Starruby
I'm in the uk too
I'd avoid the supermarket fondants. They are really soft, sticky and difficult to work with for covering a cake - they are fab though for going thru a clay gun. Try and find a local shop that makes cakes - they often stock items for decorators and they will stock quality fondant which is much easier to work with and not too sickly. The stuff i get is called M&B of London, i know Aine2 ( also in Scotland
) uses something different so there are a few suppliers. Fondant is easier to work with than you think - just don't roll it out too thinly. You might want to check out youtube demos there are lots for covering cakes with fondant which might help. One more thing assuming you are going to carve the pirate ship from sponge make sure you have a nice strong sponge for carving the shape(pound/ madeira cake consistency). I can pm you the carole deacon recipe i use for carving if you don't have one you like already.
HTH