I'm sure most of us here would say they don't have enough storage right? Well, me too! So, this is what I need help with. Over the last week I decided I NEED to expand my storage space in the kitchen. We live in a townhouse with no garage, no attic, no outdoor storage at all (which means rakes, bikes, etc need to be stored inside too) and no real basement as it's finished leaving only a 6x7 room for EVERYTHING including a deep freezer, tool chest and it's where I sew!!!

So... any suggestions to say "store it elsewhere" can't happen. I can store ONLY the really big stuff out of the kitchen - cooler, picnic backpack, cake carriers, etc.

Obviously, if I'm here, I bake cakes and you all know the storage needs for that - pans, paper products (foil, cake plates, etc), decorating tools, and then baking materials (I bake from scratch). I also bake bread, so I have different flours and nuts/seeds AND I cook in general, so lots of pots, pans, spices, utensils and a fair share of appliances (big mixer, food processor, ice teat maker, large crock pot, blender, microwave, toaster oven and smaller things like waffle/sandwich maker, scale, etc.

Currently, I have no pantry either, just my kitchen shelves. They are 42" tall cabinets (which is great), but I'm overflowing. This is all fairly new (we installed the kitchen island and upper cabinets. Base cabinets with granite counters stayed as they were new. We just wanted tall cabinets insead of the 24" cabinets that were there. All this to say, I cannot rip out what is already there... this has to be done on a budget, but it has to LOOK nice too.

So..... I went to Ikea and figured out what I would need. For about $1200, I could get a 30" wide pantry floor to ceiling, with roll-out shelves and a upper corner cabinet to install to this for over the island. It would mean chopping my island eat in counter to a penninsula basically with no eat-in option. The roll out trays would be big enough to put food or appliances on them, freeing up space in my cabinets both upper and lower.

HOWEVER, on my craigslist there is a 36" wide pantry listed for WAY cheaper and it actually matches my existing cabinets almost perfectly (and it would be on an opposing wall). I can fit this width fine, it's perfect actually... However, this style is the swing out style, so the doors have shelving, their are two swinging narrow shelves and then 12" deep shelves (in the base) top is 24" deep shelves - again floor to ceiling. If I add on the corner cabinet, this combination would be about $600 - so 1/2 the price!!!

Question is.... what pantry type is actually more useful in a kitchen? I attached pictures of the styles (not actual ones I would be getting). What do you think?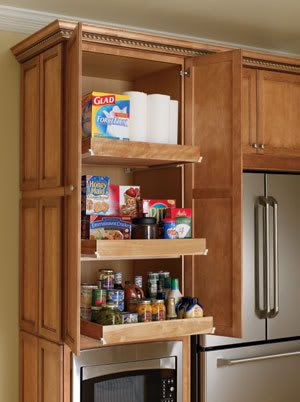 In the next post, I'll show my current kitchen.... I would make the island shorter and narrower (taking out the eat in stools - which we NEVER use).
OK, now my kitchen. The flow is AWFUL. I wanted to chop the island down from the beginning as my walk space is like 32", but DH was too lazy to do it. Also, the corner cabinet, while it holds a LOT, is very hard to access. This would be where I would put the pantry. These pics are "lived in" I had just made bread, and was getting ready to make dinner and a cake, so I don't usually have the mixer, ice tea maker and bread maker on the counters .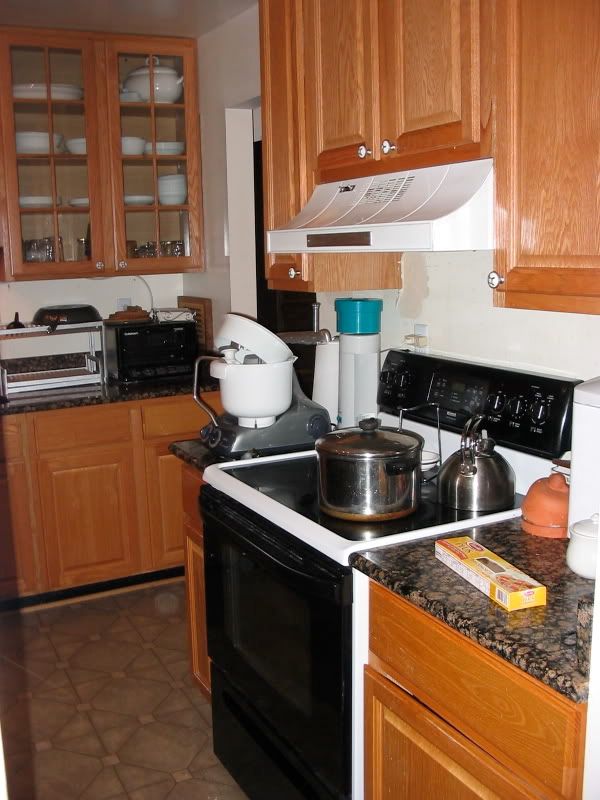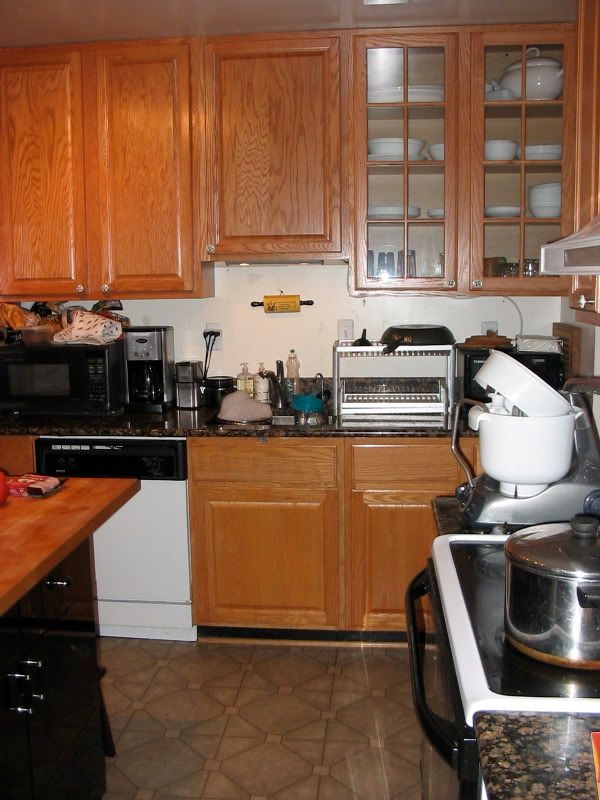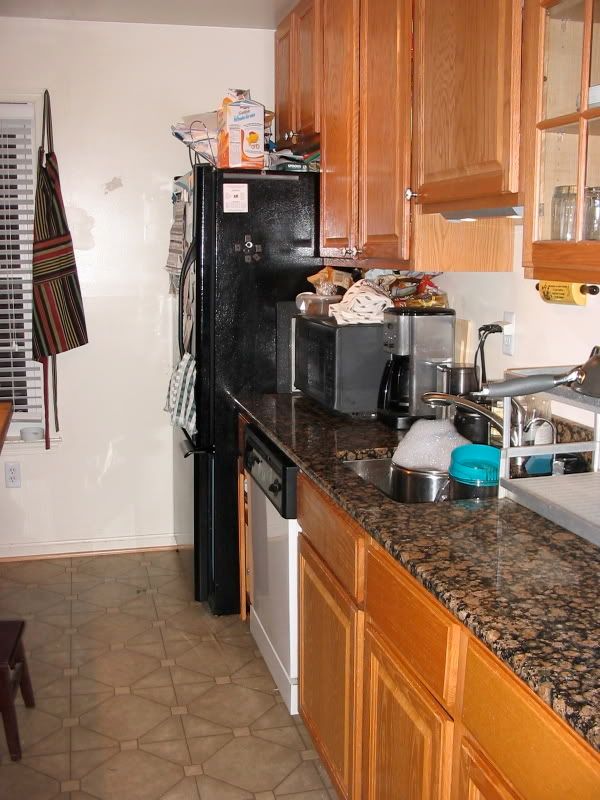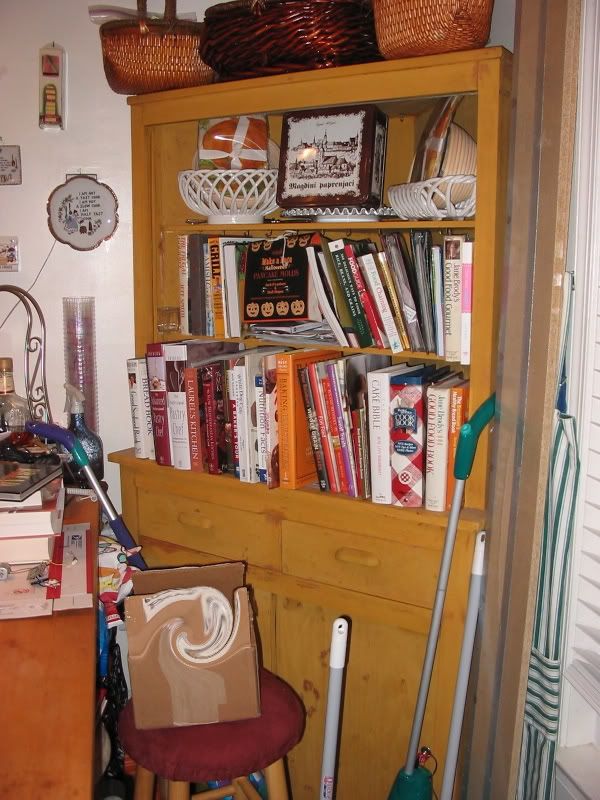 And yes, the bottom picture shows usually how it looks behind my island - JUNK!!!

Here is the current floor plan and proposed: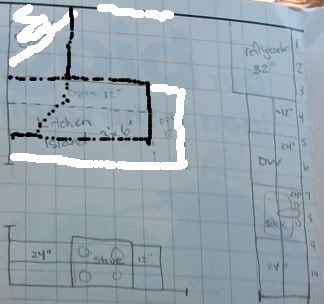 This shows the pantry in back, the island with the seating area removed and the corner cupboard above it. Instead of a corner cupboard, I could (and might prefer to do this:




Which would be a regular cabinet or even a double cabinet so it reaches to the countertop.

OK, thoughts?????
Melissa