I made my first REAL cake. A two tier round chocolate cake with chocolate ganache filling and Michele Foster's fondant. I had a lot of problems covering the cakes since the ganache wouldn't harden (when i let it harden in the fridge, the fondant sweated and it tore in some places, not the fondant's fault, it was mine). I had to cover the 9" three times! I was exhausted. the third time was do or die since i didn't have anymore fondant left. so i just made it work. It ripped in some places but I just covered them up with decorations.

Also I didn't have a fondant smoother. *hits head against wall* so eventhough I watched sugarshack's flawless fondant DVD (which is awesome!) i still wasn't able to make it smooth. But i really like the end result. am quite proud of it. one of the guests at the party was a manager of a popular bakery here and he asked who made the cake (they don't do fondant, just faux fondant aka boiled icing) and I proudly said it was ME!


Anyway, i would like to thank everyone at CC for all the help. You guys rock and I wouldn't even have had the guts to try this cake if I hadn't learned a LOT from everyone here.

Now on to the picture spammage.
(are the pictures showing up huge? i have resized them but they're showing up as really big on my computer. sorry!)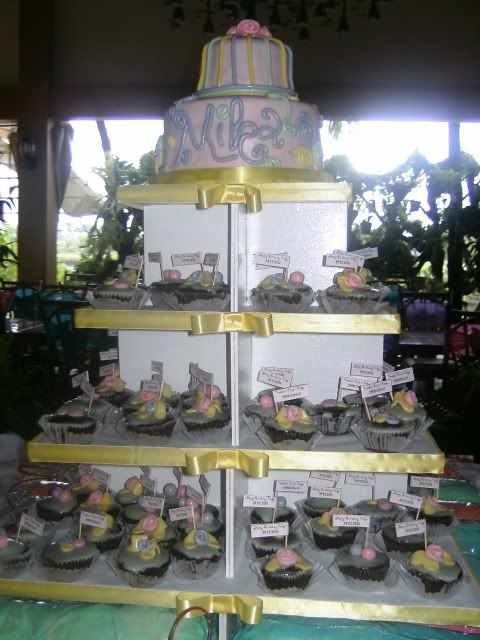 Cake with cupcakes




Cake up close. You can see all my mistakes LOL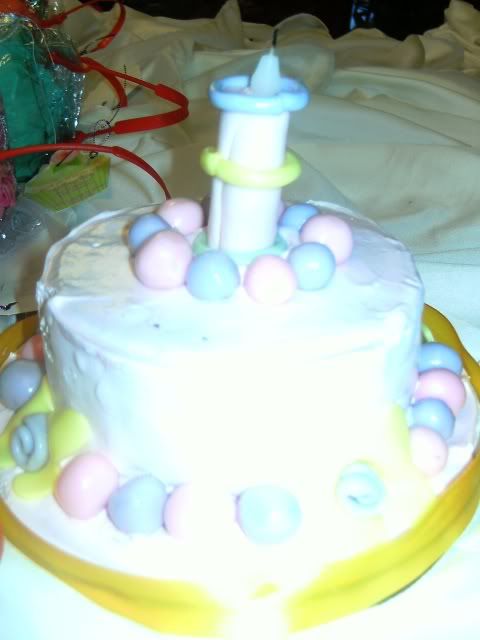 Smash cake for the baby to, well, smash. Sorry the pic is too bright.

That's it. Thanks again everyone!
Amazing Job!! I love the lettering and the colors and just everything... You did such a great job!!
thanks janel!
That is precious! I love it!

Great job!
Adorable cake! Great job!
Sorry to say your pix are not showing up for me at all.......are they on photo buck? This special computer I have to use won't let me see anything on there
thanks basketlady and andysprite.

kakeladi I will post the pics on my photos and hopefully you can see it.