*wasn't sure where to post this at sorry*

well it finally worked out. and much much better then i had anticipated.

a short back track y'all may remember that email i posted about the semi sorta way i got asked to do a wedding cake for a couple who's wedding we were not invited to (which i wasn't mad about AT all) just the fact we weren't told it was happening.

then there was a month wait and week before this reception tomorrow i find out the cake design the bride had chosen (from ARtistInTraining) wasn't going to be the one after all and that they'd added more colors and another layer! it took two days to hash out a design before we finaly got one figured out. its the bridal shower from Pistol

I want to thank Pistol and ArtistInTraining both for their patience and help they are both fantastic artists and wonderful people and great inspirations to myself and now another new cake decorator
the brides mother!

well to step bakc to last nite i get home and find an email asking how i wanted to work today and how long and did i want her to crumb coat the cakes (she baked last week.. i wasn't happy abut not having hands on from start to finish but i know i need to learn to work with others lol~)

aaaaanyays if your not confused yet= the email last nite said she was going to crumbcoat the cakes and i thought she had so i was like woah.. she's almost got it done.. did she want me to do this after all or what? (lol)
so i found out later she hadn't crumbcoated and we got started alittle late today..

i made two double batches of pink buttercream and tanked it- got it Too dark! what a waste! she's freezing that for other cakes and cookies though..

then i've only had limited experience with MMF figurines.. never putting any on a cake.. so today was a learning experience for both her and I.

its not exactly like Pistols bridal shower cake but her cake was the inspiration for this one.

the mother of the bride baked the cakes herself and decorated the 2nd layer on her own. i iced the 3 layers and we both worked on the fondant accents,dots and beads. the buttercream is Pale Pink.

i had to set the cake up tonight because i work tomorrow right after the reception so i wouldn't have time to set up. i supported each layer with wooden dowels, and i'm Praying it will hold up. (cross your fingers folks!!)

so here is a work of two decorators not too bad i think for two of us working on it lol.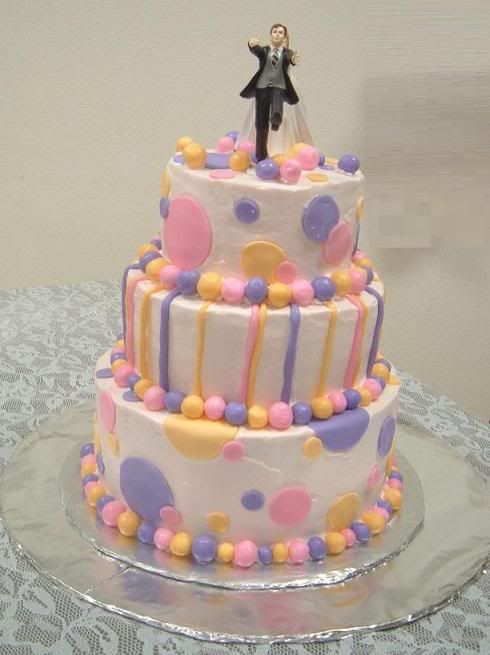 Nice teamwork, I love that topper, it makes me
every time I see it
Here are some updated pics my friend took when she went back and did some more decorating after we set the cake up. The pics were taken with her camera and better quality pics. She also made a âgroomsâ cake with the frosting I thought I had made too dark. Looks fabulous; wish I had used it on the cake instead! Looks much better imo. But she had requested a pale pink; so thatâs what I made.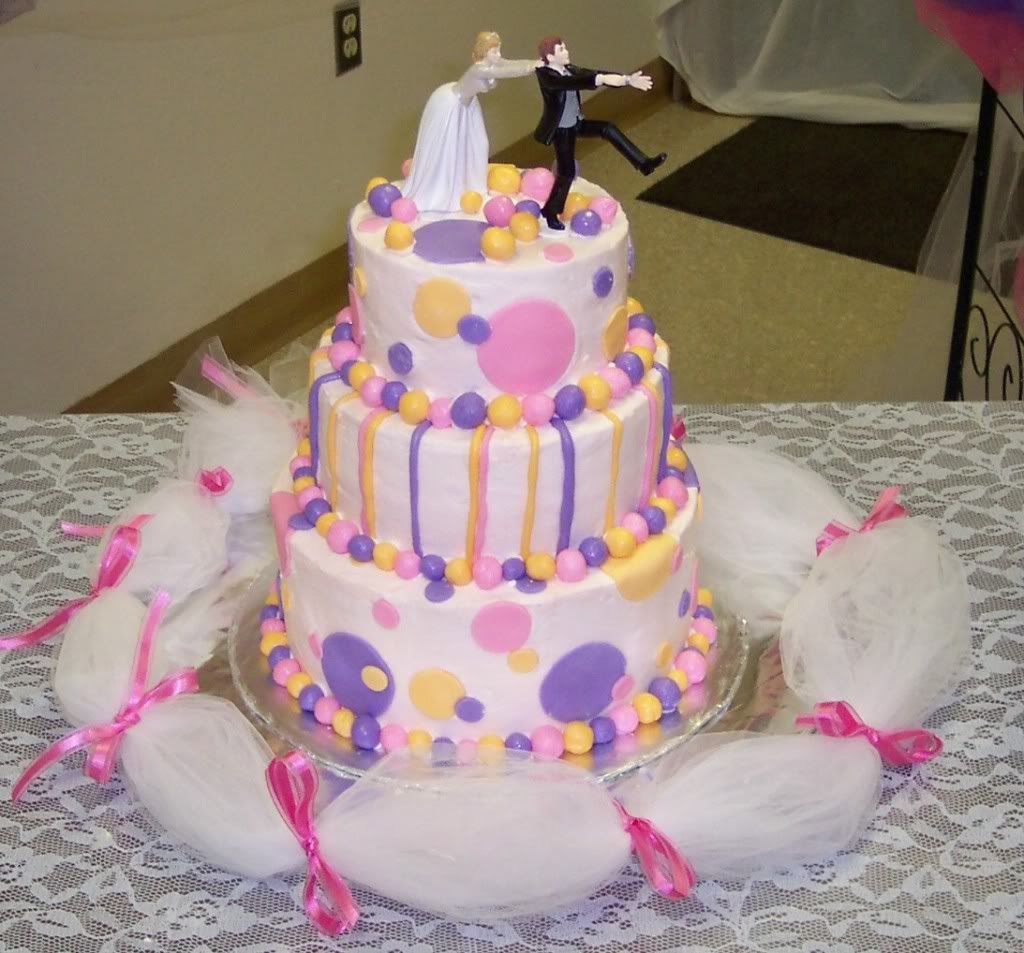 (the grooms cake)


Congratulations! That was great that the two of you worked so well together!! Would have been hard for many people to do!!
Mazel tov! The cakes look great!

I hate that topper.
it was a bit of a challange but something that i'm sure we could tackle easily next time
(know thy enemy eh? lol i just say cake is my friend cake is my friend hehe) can tell im' tired eh? lol i have to go work evening/late shift right after the reception today too (falls over bushed.)