Okay so hubby and I made this cake over labor day. I baked and he decorated.

The cake is chocolate. It is filled with bananas and chocolate mousse. The frosting is made and decorated with Whipped Cream Icing( heavy whipping cream, water, confect. sugar, vanilla and unflavored gelatin.) The only thing that is buttercream are the flames. (1/3rd butter, 2/3rd crisco)

Okay so he used black wilton icing coloring on the frosting. It looked great. We put this in the fridge over night. The next day I pulled it out and noticed green puddles next to all the flames.

A friend told me that sometimes black looks green, that maybe it sweated from being in the fridge. Is the black whipped frosting having a reaction to the buttercream flames?

See the puddles next to the flames?


I used a napkin and dabbed at it: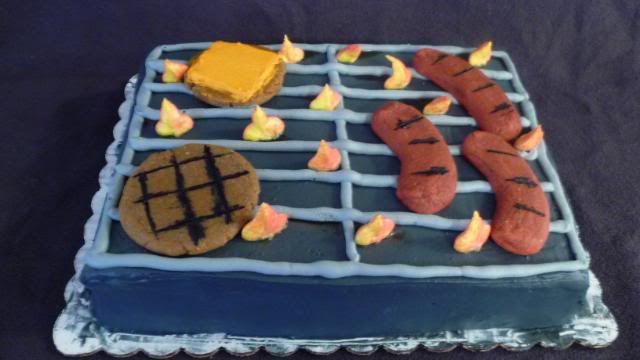 Any advice?
That sounds like exactly what happened. I have noticed green separating from the black coloring.

Anytime you put an iced cake into the fridge, you will have some condensation when you take it out; especially if there is alot of humidity in the air. When that condensation runs, it takes some of the dye with it and puddles around the cake.