My aunt was having her 50th birthday party last weekend. Hula dancers, hawaiin theme, the whole works. I called my other aunt to offer up some cupcakes but, my birthday aunt, her sons girlfriend, was already in charge of the cupcakes. So she asked if Iâd like to do the cake instead?

I said sure thing. But I let her know although I am great at decorating cupcakes, our cake decorating skills still need some work. I said I will bake and Joe will decorate. She said that was fine.

I asked her exactly what she wanted for cake, she said she wanted a 2 layer yellow hawaiin pineapple cake with white frosting and coconut on the side, pineapple in the batter.

I was disappointed she didn't want a bigger cake to feed all these people(83 invited) and offered to bring an additional chocolate sheet cake or make a half a sheet of cake. But she said they were also having cupcakes, cookies and brownies.


Okay so I should of know better than to try a brand new cake recipe the day of but I am pretty tired and bored with the old one and really wanted something special for my aunt.

So I headed over to Smitten Kitchen

The first problem I had was cake flour. I can't find it anywhere!! SO I found a recipe to make your own with baking powder and cornstarch and flour. I followed that to the T.

Then I added the sugar and baking powder. Somewhere along the line I remembered I was supposed to sift 12 times. I couldn't find when to though and realized that that was because that was part of the FIRST recipe. The recipe to make cake flour.

I should of sifted this with just the original baking powder, cornstarch and flour but didn't.


SO I wound up sifting the flour, all the baking soda, the cornstarch and the sugar, all together, 12 times!

The only other thing I did different was add some crushed pineapple to the batter. I told my dh that maybe we shouldn't, in case it would change the consistency of the recipe. He said we could dry it very well and it should be fine.

This cake was in for the full amount of time and when he went to level off the layers, they seemed very moist, almost not baked. But they were. We tasted and it tasted awesome.

I wanted to try her frosting recipe but all those raw eggs plus elderly people at the party, I didn't want to do that.

So someone posted on her site about Whimsical Bake House Buttercream. So we did that instead.

He cut up strawberry's to put in between the two layers. He frosted the cake and put it in the fridge for a while to harden up. Then frosted again, then put in the fridge again for a short time. He covered the sides in coconut. He did a thin orange boarder around the top and placed pineapples and a strawberry on top.

It was placed on a cake board and then placed on a doiley, then I put it in a box and we drove 65 miles. I kept it in my lap the whole time. We do live in Cali and it was 100 that day but we had the airconditioner on. The cake sat in the kitchen til they brought it out that evening.

At my house before leaving




Sideview




Okay 2 problems. I put this cake on an 8 inch cardboard circle and then put it on top of a white paper doiley. Somehow when they moved the cake out of the box and onto their platter they managed to lose a chunk off the bottom. See the right side of the cake?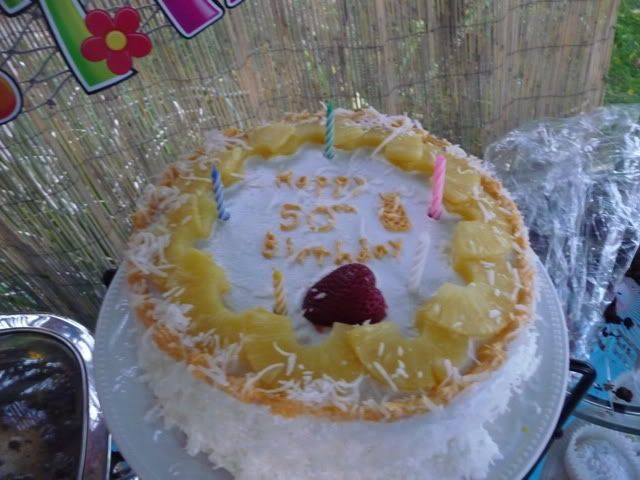 My aunt asked me to cut the cake and serve it to whoever was standing in line. I was horrified. When I started cutting, this cake completely fell apart! As in I am scooping chunks up with the knife to put on plates!


Taste wise it was awesome. Extremely moist and delicious. Everybody loved it. Two elderly cousins sitting at our table were worried they wouldn't get any so I made sure to slice some up for them. They said it was great and loved it.

I didn't give my kids any and told them to eat the cupcakes instead. I split a piece with Joe.

Before we left the party my aunt who was hosting it for her sister said a friend of the other aunts asked her if I made this from scratch and that it was delicious. Of course all the cake was gone.

Here is another picture.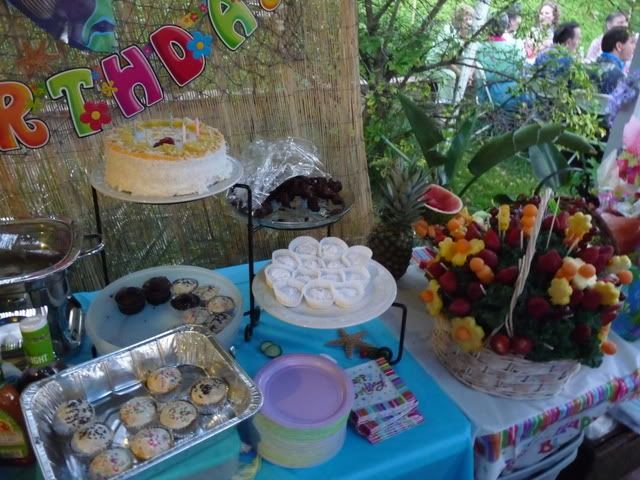 This was the email I got from my aunt who hosted the party the next day.


Quote:
Quote:

The cake for the party was cute and tasted very yummy. (Birthday aunts name) even had people make comments about where'd you get that cake, they were a little disappointed that it was homemade and you live so far away. You have to add that to your list speciality not as an everyday cake but as a speciality cake and charge a little more for it.



So it wasn't a complete disaster, but yeah it was a disaster to me cause it fell apart. Where can I get cake flour at? Do you think it fell apart cause I sifted the sugar too? LOL

I need to find some cake flour and re bake this cake!
My supermarket carries Swans Down which I always assumed was cake flour. It looks great and sounds delish. I am sorry this happened, but apparently no one cared over how it turned out after cutting it...if they think you should charge even more for it! They must have loved it!
I agree with sweetideas! The cake looked so cute and it sounds like everyone LOVED the taste. Who cares that it didnt look amazing while people scarfed it down lol! You did great!

PS not to hit on the cupcake maker but....I think you might get to do those too next time a party comes around...


Alicia
I get cake flour at Walmart!
Glad it tasted great. I don't understand why to cut the flour w/ baking powder, cornstarch yes, but BP no. I also why the sifting of 12 times. I think one sift should be fine. The extra moisture more than likely was from the pineapple. It does sound yummy.

Mike
Cake flour should be found at Safeway or wherever. Sifting the sugar won't do anything bad unless it was supposed to go in at a specific time in the recipe that wasn't with the flour.
To substitute for cake flour next time, simply remove 2 tablespoons from each cup of AP flour.
Cake flour is usually found in the baking aisles with all the other flours. Usually I find Swans Down (which, yes, is cake flour) or Pillsbury brands.

The type of flour it seems you created was self-rising flour...adding baking powder and salt to regular flour.

But remember, for cake flour just take out 2T from regular flour. And vice versa...for regular flour, ADD 2T to cake flour...per cup measurements.
For Cake flour, I take out 2 TBS of AP flour per cup and add 2 TBS of corn starch. Not sure if it's the correct way, thought I read it somewhere. It works for me, and I only sift mine once.


Jessica
Thanx for the replys everyone.

sweetideas

We didn't charge my aunt at all. She knows that we are jumping into this cake buisiness though and that we sell other baked goods already. This cake actually cost me $15.00 to make with ingredients and boxes etc. I told Joe we would have to charge at least $40.00 to make any money on it.

She didn't know how much we spent. Joe asked her privately as we were leaving how much she would spend on it. She said $20.00 or so. He said would you be willing to spend $40.00 on it? She said if it was a special occasion yes.

So that is probably why she said that about the price in the email.

If this cake did not fall apart when you cut it, how much would you be willing to spend if you were not already a baker? Question for everyone.


Good news is that I baked this cake again today without the pineapple. I looked up another recipe for the cake flour. This one says 2 T corn starch for each cup of flour, take out 2 T flour. I sifted it 3 x this time.

I made a 1/4 sheet and poured some batter into a mini cake so I could taste the cake. This cake is supposed to be going with hubby tomorrow to a potluck.

It tasted delicious! It did not fall apart unless you count what stuck to the pan. LOL I am really liking this recipe. I didn't even frost the mini.

Joe is frosting and decorating the 1/4 sheet so I will take pics when it is done and tell you how it turned out at the party tomorrow.

Aliwis000


Quote:
Quote:

I agree with sweetideas! The cake looked so cute and it sounds like everyone LOVED the taste. Who cares that it didnt look amazing while people scarfed it down lol! You did great!



Awww thank you!


Quote:
Quote:

PS not to hit on the cupcake maker but....I think you might get to do those too next time a party comes around...



I had to about chew my fingers off to keep from saying what I really wanted to say in the opening thread!!


I had to tell myself how extremely petty and childish I would sound if I said what I really wanted to say and tried to tell myself that they are just cupcakes for goodness sakes and who cares if these cupcakes were supposed to be the bell of the party for my aunt celebrating her 50th birthday with 85 guest invited!




I need to stop.


I was so disappointed when I heard someone else was doing the cupcakes. For about a minute I was scared thinking maybe, she would do a better job then me! And then I would be jealous.

Nope. Nothing to worry about. She popped open a box mix and canned frosting and tossed on a few sprinkles and they melted in her car on the way.


I really wish she would of asked me but they live far away and to their benefit, don't know that I have become completely enamored with cupcakes and that I do, IMO, nice work. I would of made the most beautiful cupcakes for her.


They know now. The day before the party I sent her and my other aunt pics of my cupcakes. I am glad I did it the day before cause if I would of sent it after that gals cupcake fiasco I would of looked like I was being condescending instead of just showing off my creations. lol

I just can't get over the fact that these cupcakes were supposed to be the "center of the party" and the brownies and cookies were going to play a supporting act and the cake was more like a complete after thought.


I offered cupcakes a few weeks ago and she said someone else was doing them but maybe I could bring a cake?

When I heard how many people I got excited and thought maybe they would like 2 cakes, different themes/flavors or at least 1 big half sheet. I was getting really excited. NOPE!!!

They were having CUPCAKES!!!!




Now I adore cupcakes and I think cupcakes are fine in lieu of cake but THOSE??????

I told her the round cake she wanted would probably only serve about 16 people and how is that enough for 85 guest? (That is with me thinking sizes are bigger)

Oh no, we don't need that much cake, we are having cupcakes. And cookies and brownies.

My elderly cousins (like 70's) sitting at my table seen my cake and asked me how I made it and they were getting so excited. When they heard there weren't many pieces they were worried they wouldn't get a piece at all.

I told them well my aunt said that was all she wanted me to bring. I asked her several times. She said cupcakes and cookies and brownies is sufficient.

They said no, its a birthday, people always want a piece of the cake.

Exactly!

Okay so now that I sound petty and childish and all that onto the next poster.




Fiddlestix I will have to look. It seems like the ap flour and cornstarch is holding up though.

Mike1394

I have no clue. When I was doing it I thought the bp was strange, cause I would be needing to add more later. I found another recipe for cake flour I posted further up and tried that today. I ate the cake and it tasted great and we'll see how it holds up tomorrow! lol I sifted this one 3x

KoryAK

The cake recipe said to add the cake flour with the sugar and baking powder and salt. I think it was the too much baking powder and not enough flour. We'll see soon.

jennifer7777

Hello. I thought about what you said, just deleting the flour, but then why would a recipe read 3 1/2 cups of cake flour? If all you need is less flour then it would say 3 1/4 cups or something. See what I mean?

I tried the cornstarch and I think that is going to work.

I know it sounds like self rising flour. But the salt was part of the cake recipe. All of it got sifted at once though. LOL

seagoat

That is the recipe I found today on cooks.com. It makes sense to me. I sifted 3 x this time. LOL

I will update tomorrow to let everyone know how it went. Thanx everyone!
Just wondering ..You said you left out the crushed pineapple on the 2nd try? Did you like the flavor just as well ? Or better the first time ? Flavor wise of course ?
FYI.....Swans Down cake flour is in a red box. It took me forever to find it b/c I was looking for a bag!!!
fiddlesticks


Quote:
Quote:

Just wondering ..You said you left out the crushed pineapple on the 2nd try? Did you like the flavor just as well ? Or better the first time ? Flavor wise of course ?



I have been thinking about what you said. I will try to explain this as best as I can.

When we did the pineapple cake, Joe cut the tops off. Joe and I nibbled on all of it. That was extremely moist to the point of me almost thinking it wasn't baked enough. But I knew it was. I had it in at max time, toothpicks came out clean. The cakes, there were 3 of them, so they were also very short.

The pineapple taste was not overwhelming. It tasted really sweet. It looked like it wasn't baked enough. Almost I dare say reminded me of banana bread. But even more moist.

At the party, I had split a slice with Joe cause I wanted some but wanted to make sure there was enough for other people.

I was at that point completely horrified cause it fell so my attention was really focused on that.

I took a bite and went back to the cake area and remembered thinking I couldn't get a good grasp for the overall taste, if that makes sense. I know the icing is that Whimsical Bakehouse Buttercream. It was not a very overpowering icing. Very light.

So I went back and took another bite and it tasted good but it was in tiny pieces and sometimes it is hard for me to get a real feel for something when it is like that.

I am going to try that cake again with the pineapples and see if it turns out any different using the correct recipe for cake flour. lol

The cake I tasted yesterday was marvelous. I fell head over heels for it. My other two yellow cake recipes I have are "good", but taste "heavy". This was alot lighter of a cake. But something you can really dig your teeth into.

In general, I don't like things overly sweet so just that fact alone, I like it without the pineapple better. I even ate a small round cake of this yesterday with no frosting and it was fantastic.

I will post pics later.

I am anxiously awaiting for a full review from hubby about the cake we sent with him today.

I was actually wanting to make cupcakes today out of this mix but realized 25 lbs of sugar is gone! LOL

kimmypooh79

Thank you. I will be on the lookout if nothing else to see if it matches up with my ap flour plus cornstarch routine!
Thanks , I would love to know what you use for your over all recipe When your done and happy with it. It sounds delicious as you post about it !
Aww thanx. I was really happy with it yesterday, the cake part.

In the past the frosting I usually use is real butter, confectioners sugar, vanilla and a touch of meingue powder.

But we all know that doesn't hold up in the heat.

Joe isn't too happy with the whimsical bakehouse buttercream. He said it is very thin and you have to keep layering it and freezing. Last night he asked me to make him some decorating ice cream (edit ICING lol)for the cake so I got out the crisco and he said he needed to use more frosting so went to use that and it was a night mare and he wound up taking all the frosting off and remixing it.

Maybe I will just stick with my regular butter icing and decorator icing. I just know that it won't be able to be out in the heat.

What do you use for your regular icing? Anyone is welcome to chime in.

There are so many different things I want to try. A few months back I tried my first ever meringue frosting cake. It tasted delicious BUT I didn't realize til I already started that I should of had a candy thermometer. lol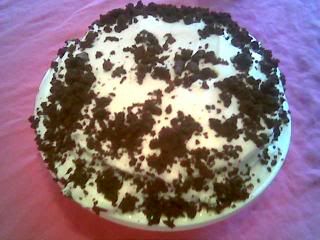 I am going to get one and then try again.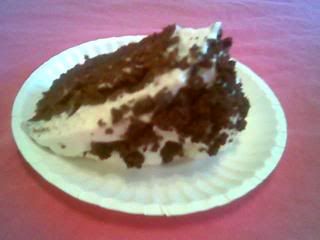 That is my rendition of baking with dories Devils White Out Cake.

Yeah I know, one sorry looking cake. I will do better next time I promise! lol