Im just curious to what everyone uses and where they get them. I have used plywood, and cake drums bought from micheals. I hate using the cardboard singles as they tend to bend. But I see all these great thick cakeboards with ribbon tied around the bottom and so on. Where do you get your boards? I know alot of people do use foam core, but where do I get this stuff? What do you cover your board with when you 'sugar' your board or cover the base in fondant? Also, isnt it true that floral foil is NOT food safe, I would love to use it since it comes in so many different colors, but just want to be sure. Thanks everyone!
I use a 1/2 inch cake drum like these as they are sturdy and my riobbon fits perfectly:



Then I cover my boards in fondant such as this bought from Michaels or my local supply store:




And even add decoration to my fondant sometimes such as this: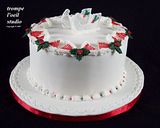 Also I would never, ever, ever put something on my food that I was not 100% sure was food safe including flowers [pesticides] as I have many allergies and they are nothing to "sneeze" about [bad pun]!
Wouldn't want anyone going to the hospital on my account.
HTH