Hi everyone, I'm pretty new here but have been decorating/baking for about 2 years now. I had my first major disaster last Wednesday.

I was doing a baby shower cake for a surprise party we were having for a coworker. I got the idea to do the bassinet cake from a friend who also bakes. Hers looked so cute and seemed pretty easy so I decided to try it.

I used two layers of a 1/4 sheet for the bed part and baked one 9 inch round, cut it in half, stacked it (with icing in the middle) and placed it on top of the 1/4 sheets on one end, wich icing as "glue". This served as the top part of a bassinet.

I was just about done with the decorating when I noticed the top part started to slowly lean backwards. I didn't know what to do except to take my spatula and push it back, messing up all decor I'd done on that part. I decided to let the cake rest overnight, slightly elevated, hoping it would "set" back in place and stick better.

The next morning I salaved what I could, I live 5 mins. from work so I was going to leave it and just run back home before the shower was to start.

On my way back to work with the cake, I HEARD the top part fall in the box. I instantly pulled over and was so afraid to look inside the box. Sure enough, the darn thing finally fell all the way backwards...I wanted to cry and scream just thinking of all the time and energy it took. I was so disappointed and left it in the car. I told everyone what happened and showed a few pictures I smartly snapped before it happened (must've known subconsciously that it wouldn't last! LOL) They still wanted it, so I brought it in and they devoured it. I had to just get over it...lessons learned. I guess nothing really went to waste!

My friend thinks it was the type of cake recipe I used, maybe it wasn't firm enough. She used a pound cake. Oh well. It's still adorable in theory and when it does work.

Here's one picture I took while still in process of decorating.....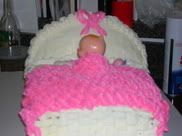 Oh no! Things like this just make your heart sink. I would have been afraid to open the box too. Do you think it would have helped if you had put the layered 9" half on a board with dowels under it for support and then one long dowel through the top and bottom to keep it from shifting? BTW...the pre-disaster pic you took looks great!
Thanks Lisa! I wondered that too...about the dowels. I was just so set on doing it without because it worked for my friend just fine. Before I even began that was my first question to her - would it really stay put? haha I think my cake was too soft.
I think it is as cute as can be. I had a small disaster similar to yours. I made a St. Patrick's day cake for my daughter's class. It was sooo very cute, however the hat started to bend in the middle as I packed it up to take it to school. The hat was actually made out of a cookie. I think it was just tooooo soft. I ended up putting a dowl under the hat to hold it up. The kids loved it and the cake was so moist I don't think the hat was even noticed (even though I was mortified). Keep baking - I think our little "oooppppssss" only make us better.

Sorry to hear about your disaster! I hate delivering cakes...it's so stressful. I hold my breath until it gets where it's going. I'm glad you got a picture of it first!
Thanks ladies! I won't let it deter me.

LAA, that leprechaun is so cute, I love it!
I learned a lesson years ago after my "stand up rabbit" cake fell.........use pound cake......if I have any thoughts that my cake might not make it, I use pound cake.............

Yes, driving is the WORST part of this whoel business.............and if you drive slow or "with caution" you end up geting honked at or "motioned" to...........
Ironbaker ~ that cake looked adorable! But, cake is cake and as long as it was in the box, still edible! Sorry about your mishap though, so frustrating and as you all say, lesson learned!
LAA ~ nice cake!
Your cakes really look cute and lots of nice work! I haven't done too many stacked cakes, but when I do I probably over-dowel! What I started using instead of dowels, though are plastic drink stirrers, they come in pretty colors that can match your cake, can be cut like dowels, and don't look so bad when they show up in the cake. Janice