My daughter's cheerleading team is selling cookie bouquets for Valentine's day, and I get to be the one to make them. LOL
I am trying to come up with a cheap/easy way to hold the sticks. We are putting the cookies into a painted flower pot.
I am thinking about lining the pot with plastic wrap, and then filling it with either rice crispy treats or popcorn balls, and using that to hold the sticks steady. I would then fold the top of the treat with the excess plastic wrap, then cover it with crinkled paper. Would that work? Has anyone tried anything similar?
Here is a pic of the bouquet I made to take pics of to help sell them. I used floral foam for this one, but wasn't really pleased.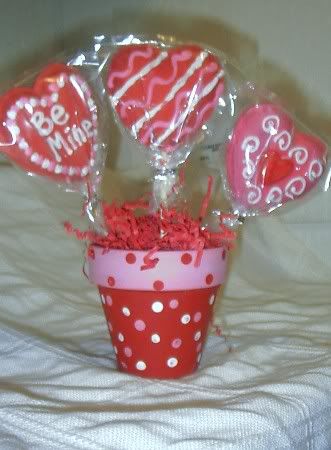 hmm... what a creative thought! I think the rice crispie treats would work better, but I've never tried either one...
what a lucky cheerleading team your daughter has!
I THINK THE RICE TREATS WOULD WORK ALSO.
WHAT ICING DID YOU USE? WAS IT POURED?
I think the ricecrispies treats might get overlooked if covered with paper
how about crunched oreos to simulate dirt? ...on top of the rice crispies

I think the less expensive way to go would be to use that foam used for flower arrangements with the crinkled paper on top ... I've made bouquets using the foam only
I've used foam before and it worked well. I didn't fill my flower pot, just put enough in the bottom to hold the sticks and then put crinkle paper on top. I think the popcorn balls or the rice crispies might work but you would have to have the sticks actually insert into them I think for the cookies to remain upright. Not sure how that would work being that you need to wrap them to keep them edible but maybe that wasn't your intention. If you just wanted to use that for a base to stick the cookies in, it would probably work if you just pressed that into the flower pot. You could even color it red or black if you wanted to.

Just a thought. If you don't like the foam, maybe try putting poster putty or clay in the bottom of the pot to stick the cookie sticks into. Then you could fill the pot with crinkle paper or whatever you want. My son's preschool did that with some craft last year and inserted sticks into clay. It held really well, matter of fact it's still holding the stick in place.

Hope that helps!
I doubt that rice krispies will hold up the cookies. Floral foam is the least expensive and strongest to support the cookies. It won't show, and it will save you lots of hassle.
Great work on the cookies.

Your best bet is floral foam. If there is a dollar store close by you can get it really cheap. I would stay away from anything that will leave the cookie sticks sticky to hold on to.

Also try using tissue paper to give a fuller effect. This way the bouquet presentation looks fuller and not spacy.

Or you can try making the cookies in various sizes. Make the center one larger than the other two.

Staggering the Cookies at various heights also helps.

Be sure to post pics later....

Good Luck
I tried using rice crispy treats once and the sticks will move around when they are warm. I made a solar system and used the rice crispy treat as the base. I had to cut all the sticks so they were only about an inch long so they would stay up for a few minutes. Floral foam from the dollar store works the best for me.

Sandra
I tried it with the rice crispy treats earlier, and it actually worked very well. I used these measurements: 1/4 cup butter, 4 cups mini marshmallows, and 6 cups rice crispies. I lined the pot with saran wrap, then sprayed that. As soon as the mixture was complete, I spooned it into the pots, almost to the top. I let that cool for a while, then put them into the fridge for a few minutes. After that, the sticks went in really easily, and stayed in place. I didn't have trouble with them moving around, and the whole thing stayed in place better than when I was using floral foam. It was quite a bit cheaper as well, I filled 8 pots from one recipe, so it worked out to about 20 cents a pot. After putting the stick in, I arranged the saran wrap I had used to line the pot with around the sticks, and pressed down to seal it.
Thanks for the tissue idea, I hadn't thought of that, and it will really add something to the pot.

Thanks for your help, everyone!