I have a cake due next friday and I would like to put edible dollar signs standing upright on it. I was thinking about putting edible images of dollar signs onto choclate and then sticking them into the cake, but I'm not sure how to get the chocolate the right shape? Everytime I squeeze out the chocolate it doesn't hold the right shape. Is it just too warm?

Anyway, I'm getting frustrated and was wondering if anyone had another way to get the right shape so I can just attach the edible image to the chocolate. Hopefully this makes sense, sometimes it's hard to explain what you're trying to do without pictures or actually seeing it.


Thanks for any advice you have to offer!
Diana
I'm attaching a (crude) sketch to show what effect I'm after. The dollar signs will be standing up on on the cake.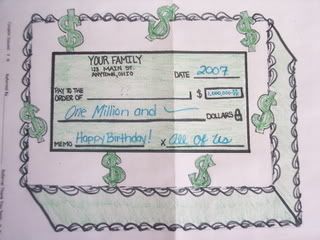 sorry the pic is kind of big!
Gonna BUMP ya cause I don't know, and this is moving to the bottom=) Jen
bump
I'm not an expert on choc (or cakes for that matter!!!
) But I have had a play with it and had similar probs when I first tried piping with it ....it sounds like your choc is too warm....I found it hard to find the right temp(I had to let it sit much longer than I thought) ......but keep playing....it should work ....

If for some reason it you can't make it work......

You could make them out of choc modelling paste (which is really easy to make). You then hand model them. If you want them uniform you could cut them from a stencil or put through a claygun or playdoh machine or roll out to from a "snake/tube and then shape them....

If all else fails you cold buy a choc mould!!!


hth a little
Thanks I really appreciate your response. I'll keep trying with the piping and if I don't get what I want I'll do chocolate modeling clay. I have the stuff to make my own cutter, so I could even cut them out of the candy clay after rolling it out. Thanks for the idea!
The chocolate was too hot. Try adding more unmelted chocolate to cool it down. It is a type of tempering the chocolate.
pipe your chocolate like you would be doing a chocoalte transfer, Whimsical Bakehouse type.

then when the outline is dry, fill in...you can add edible picks at the bottom with the same chocolate!
I know this is WAY too late, but I'm working on a money cake and ran across your post. I'm making dollar signs out of cookies (happened to have a $ sign cookie cutter) and icing them in green royal icing. To make cookies stand up, I like to attach a toothpick or wooden skewer with candy melts.

Maybe this will come in handy in the future