Lace molds are NOT CHEAP. Yet easy to make. There is this site called laceheaven.com they have many different laces on a low price.
I like a shallow lace mold, I don't want my lace to be thick. To me a lace on the cake should look thin and fragile. So it's basically an impression mold.
In this weather the dits are soft, but if they are firm I warm them a little bit. I brush my lace with Seal Dit, I don't mind picking it up and rubbing it on it, going over it with a brush too to get it everywhere. You definitely don't want to put too much, to clog up some delicate details, but you must seal it good, or taking the finished silicone off will rip into the lace.
I lay my lace onto a rolled out piece of clay rubbed with Anchor Dit.
Using a small roller I gently roll over my lace. Not to push it into the clay, just to get it stay very evenly, rather then push it with my fingers.
I only use the Plastique on this one. Press and mush some into the details, then cover it with one smooth piece! No bubbles!!!!
This is what it looks like, and here is the fondant lace I made with it.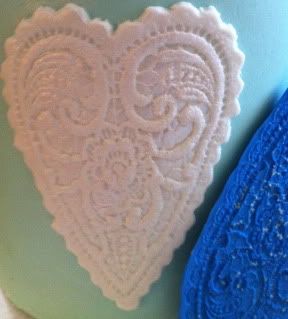 Took me less then 10 minutes, and I used 0.8 oz silicone and it measures little short of 3x4" lace mold.