Indy some people just don't appreciate quality stuff.
We sell mainly cookies, brownies, banana bread, some cupcakes and slices of cake to friends in the neighborhood.
I make all goodies from scratch and use real butter in everything. Due to the heat this summer we have had to use crisco icing on the cupcake frosting or it melts in about a minute though.
We have alot of regulars who appreciate the freshly baked cookies and treats.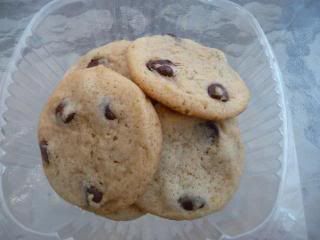 We charge $2.00 for 6 small chocolate chip cookies. That plus the plastic box weighs 4 oz. If someone spends $8.00 or more in food they can get a $2.00 box free.
Most people who know the quality and taste are eager to buy and usually will 1 - 2 times a week. But sometimes my eldest son runs into someone who says, $2.00 for 6 cookies? I can go to the liquor store and get 6 for a $1.00!
Then go then! Go spend $4.00 in gas to get to the super market. That irritates me to no end. Not because some people are too cheap to appreciate good quality fresh cookies, but because my son comes home wondering if we are charging too much.
I tell him if we are too high then all these other people wouldn't be buying. Let them go walk 20 minutes to the nearest liquor store and buy crappy cookies that have sat on a shelf for months.
Recently we took the kids out to dinner at Home town Buffet. It was dessert time and my eldest son went and got a cookie. He started eating it and was like, "This don't taste good."
I said, "Of course it doesn't. It is not fresh. Who knows what junky ingredients are in it."
Funny thing is, 3 of my kids took a bite and not one of them could even identify WHAT kind of cookie it was! LOL
I gave it the old sniff but wasn't brave enough to eat it. There looked like a few nuts on it so I told the kids it was peanut butter. Case settled!