I have done some really fun cakes for my kids, but with life getting busier by the moment (full time honors student in college, 3 kids, work part time) I am in need of some inspiration. I am just overwhelmed and uninspired. My daughters birthday is coming up, the big FIVE! She loves all things girly but we have done the princess thing (her first birthday cake is my profile picture), we have done the giant cupcake cake, etc. Her favourite color is pink and she loves sparkley things but I would like some ideas that are a little out of the box. I am moderately skilled with fondant, gumpaste and buttercream so I am open to all mediums. So perhaps in your internet travels you saw something that just screamed "little girl!" or maybe a cake that you made yourself that you are particularly fond of? I would love some ideas to get the ball rolling. I spend a lot of my study breaks in the galleries her and have amassed a good collection of cakes but nothing has jumped out at me yet as THE ONE.
My boys are older and they know months in advance as to what they want (elder wants a military scene, complete with tank, the other boy wants a WORKING "gold" sluice. I might need some technical help with that one
Yes, an easy fix would be a cute little pink jewelry box on top of a cake. I make mine out of cake, covered in pink fondant then place a purchased mirror on a piece of foamcore (that I've covered in pink fondant) insert two sharpened wooden skewers into the bottom of the foamcore and insert that into the back of the cake. Place four wooden balls that you've painted pink - onto the bottom of the foamcore cake board that the jewelry box is on (with hot glue), and fill the jewelry box with dime store candy necklaces, candy diamond rings and fondant brooches. You can decorate the sides of the box with scrolls colored a deeper pink or gold - also around the mirror. She'll get a kick out of it.
Yep I was also thinking of a jewelry themed cake. What little girl doesn't love jewelry?
I just did this for a little five year old. This time it was just the topper that the client was going to arrange on a cake themselves.
I have also put similar on a round cake covered in a fondant table cloth. You can also add figures or teddy bears around the base or on the table like a teddy bears picnic.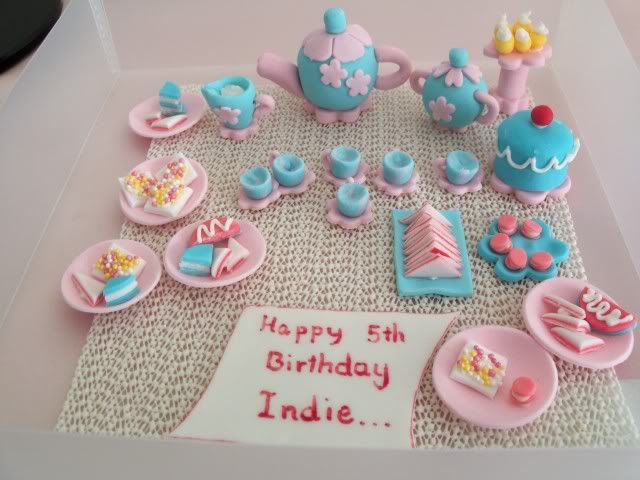 Does she like to play dress-up? Maybe a clothes trunk with clothes, etc for playing dress-up. You could carve/model a little girl to represent her wearing over -sized clothes as if she were playing with your wardrobe.
Lovely ideas!! I think the jewelry one is on the right track. Thank you so much!!

ChellesCakes- thank you for posting a picture!! That is an adorable cake!! We did the teaparty theme last year and it was just the teapot cake and some petite fours. I love the whole setting. It is super cute!