Modelling Chocolate/Wrap cake nightmare! Can I save it?
I am not a business, but I make a few cakes for friends, friends of friends etc. I am making a small 2 tier chocolate wrap cake for my friend, which is for her sister's Birthday tomorrow.

I decided to make the modelling chocolate myself as I made it some years ago and remember it being easy. However, having never worked with shop bought modelling chocolate, I am unsure where I have gone/am going wrong.
I am having to warm it up so that it is workable, otherwise it is just too hard to roll out/work with and then it is getting all greasy and cocoa butter is everywhere. Then, when I am putting it on the cake it is floppy and not holding it's shape.

I am also rolling it out on icing sugar, as suggested in the tutorial I have seen and now there is icing sugar on the inside of the wraps that are on the cake. I can hide some of it with decorations later, but is there any other way to get rid of it? Can I 'buff' it with my hands when it has gone hard again? Brush it off with water? (I am thinking not!)

Finally, is there any way to make it more shiny without glaze spray? I have no way to get any before tomorrow sadly. I was thinking maybe some lustre dust brushed over the dry chocolate might help give a better effect? Gold or bronze maybe?

I am sorry for all the questions.
My friend will think it is fab anyway, but that's not really the point, is it, it has to look good enough for me to think it's good.

Thanks in advance.
What is your modeling clay recipe? Did you use chocolate coating?
I used eating milk chocolate and white chocolate too. 200g milk choc to 60ml of liquid glucose and slightly less for the white chocolate. I'm in the uk, so different ingredients here, I think our chocolate is different to the USA too?
Are you heating the chocolate clay or warming it with your hands before working with it? You should be able to knead it with your hands to make it pliable enough to use.
When I make modeling chocolate, I only let it sit until it's cool enough to handle. Then I knead as much oil out of it as possible. Whether you use chocolate, candy melts, almond bark, whatever - - you're going to have oil dripping out of it when it gets warm.

You might try rolling it out then putting it in a cool place for a while or in the fridge for just a few minutes to let it harden so it will hold its shape. You can also use the heat of your hands to draw some of the oil to the surface after you roll it out. This will make it smooth and shiny - - kind of like polishing it with your hands. You're right about the water - - any moisture will make it seize up.
Try rolling it out on light shortening or pan spray instead of powdered sugar - you won't have any whiteness to contend with.
You can also roll it out between 2 sheets of parchment paper. It won't stick as long as you release the parchment every once in awhile on both sides (just keep flipping it over and rolling from both sides).
Thanks for the replies. Does the recipe I'm using sound ok?

It's too hard to knead at all from cold/when it was left overnight, so I warmed it in the microwave until just soft enough to handle/knead.

I'll try putting it in the fridge once rolled and cut and also the white/veg fat to roll out on thanks.

Someone (lady in sugarcraft shop, tried to get some glaze spray this afternoon) using alcohol to get the icing sugar off as it evaporates fast. Does anyone think that would work?

This is it so far, obviously not finished, have to wait until the children are in bed now. Should I take the chocolate wraps off and start again?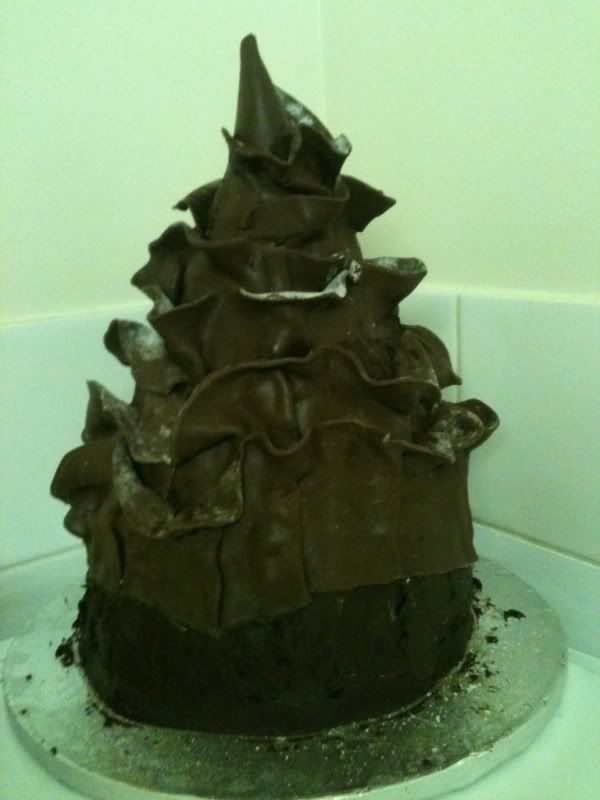 I've heard of some using a small paintbrush and vodka to get the powdered sugar off, but I've never tried that on modeling chocolate. It should work though. I would say as long as the wraps you have on there are holding their shape, just continue on from there. Good Luck and post pics.
Thanks again. I've had to use ganache to stick the wraps into place a bit, but they are holding ok.

I'll try the vodka on a spare bit of the modelling chocolate to see what it does. Fingers crossed!
Does the lady in the cake shop sell Cocoform modelling chocolate? That's what I used on my wrap cake and I didn't have any of the issues you are talking about. I rolled it out on very minimal amounts icing sugar then buffed what I could off. I then sprinkled different shades of luster dusts on it and rubbed them in.

You can see mine here

http://cakecentral.com/gallery/1875575/chocolate-heaven
Wow! That looks amazing! That's the way I wanted the wraps to look really.


Sadly the shop was a bit useless and didn't have much at all in. It's the only one I can find even though we live in a city too. I did consider using cocoform but it is so expensive when I just do this as a hobby. Do you mind if I'm cheeky and ask how big your cake was and how much (weight) of cocoform you used? I think I'll definitely order some to try after this, even if just to get an idea of what it should be like.

I'm a bit disappointed, but this is my first time even stacking tiers, let alone doing a cake like this, so I'll just have to practice.

Thanks everyone for being so helpful.
It was a 10-8-6 with a styrofoam cone on top with a base of 4". I bought a 1kg bag of each flavour of Cocoform, I had a lot left over though. You would probably be able to just buy 3 or 4 of the 250g ones. HTH
I did a cake similar to what you're trying to achieve here: http://cakecentral.com/gallery/2198049/chocolate-wrapped-cake

PM me and I'll help you through it.
I'm from the UK, and thought I'd point you towards <a href="www.craftcompany.co.uk">CraftCompany.co.uk</a> for future reference - they sell a whole ton of stuff, and it's all pretty reasonably priced too - mostly even cheaper than Amazon, and certainly cheaper than any of the stores I've found


I make my modelling chocolate out of Tesco cake covering - the flavour isn't amazing, but it's often good enough for decoration. It also doesn't get oily at all, and holds it's shape pretty well
Bobwonderbuns, that is amazing! Thanks so much for the offer of help via PM, I've only just seen it and I think I've managed to get the cake to an acceptable ish standard now.

Myxstorie, thankyou. I do usually use that company for things but the cocoform is still just as expensive sadly. It's not that I don't think it's worth the money, but it's a lot to spend on a 'practice cake'.

Anyway, here it is. I'm especially unhappy with the top, but I can live with it. Going to order some cocoform and use it to make a similar cake for my husband's birthday in a couple of weeks so I can practice more.

Thanks again so much for all the help, it really made a difference!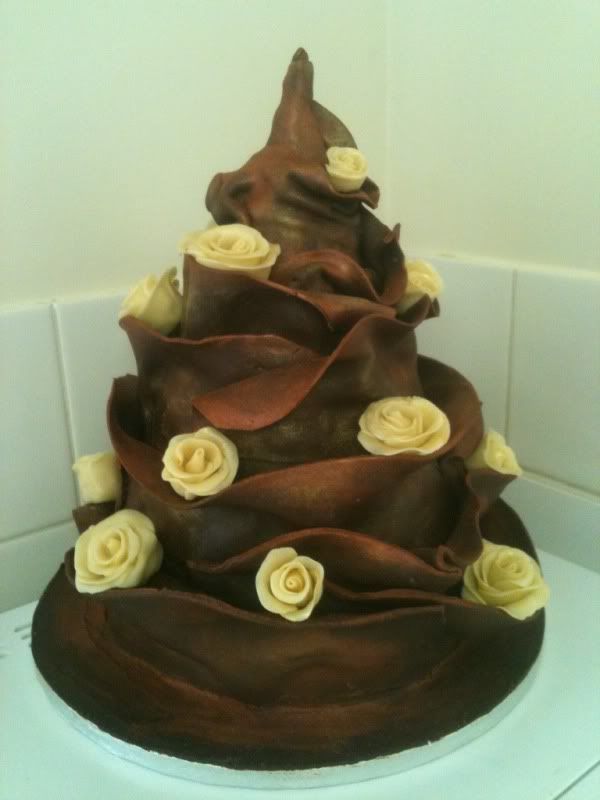 Wow! I'm impressed. I think you did a wonderful job - - especially for your first time. We're going to have to keep an eye on you. Great cake!
Yeah, the cocoform is a bit of a rip off :/ I bought £5 worth so that I could see how similar (or dissimilar) my homemade modelling chocolate was, and was rather horrified at how little there is, especially considering how simple it is to make.

Can I ask what recipe you used for your modelling chocolate? It looks beautiful! The cake is absolutely stunning, you should be proud
Thankyou both, you've made my day! I was a bit worried about my friend seeing it.

The modelling chocolate recipe I used was 1KG of milk chocolate to 380g of glucose syrup. (it was just the one from Asda, it comes in a 140g tube and I used Asda own chocolate, the mid priced range, not the really cheap one. For the white choc I put in a bit less glucose syrup. It was quite hard to work with but I wiped off any excess cocoa butter once it was rolled and then popped in the fridge for a few minutes before putting on the cake. (too much cocoa butter left on created a whitish 'bloom' on the chocolate in the fridge) it does have quite a lot of copper lustre dust on it, which made it look much better!

Thanks again for all the help!
Thank you! I used golden syrup in mine (which I'd seen recommended elsewhere) and it was a little too soft, so I think I may have to run out and get some glucose this weekend and have another pop at it 8D
I think your cake turned out beautiful! I haven't tried that method yet, but you've inspired me! I love your "don't give up" attitude! Be proud of yourself!
So put it in your photos already so I can favorite it!
Wow! You did a wonderful job on it!! That's a very lovely cake. Great work!!!
Quote:
Originally Posted by
myxstorie
Yeah, the cocoform is a bit of a rip off :/ I bought £5 worth so that I could see how similar (or dissimilar) my homemade modelling chocolate was, and was rather horrified at how little there is, especially considering how simple it is to make.
Can I ask what recipe you used for your modelling chocolate? It looks beautiful! The cake is absolutely stunning, you should be proud



The Cocoform is expensive but you can roll it out really thin and it stills holds its shape perfectly. The smell and taste of it is divine as well!

The recipe for white chocolate and milk chocolate modelling chocolate is a little more complex than dark chocolate so that could be why it didn't work quite as well.

The recipe for white/ milk is:

80g (1/3 cup) water
120g (1/2 cup) sugar
300g (1cup) glucose
100g (1cup) cocoa butter tablets
1000g (7cups) milk (37%) or white chocolate couverture, melted

Boil water and sugar together until fully dissolved. Add the glucose, stir to combine over the heat but do not allow to boil. Remove from the heat and allow to cool slightly. Add the cocoa butter. Stir until all the ingredients are fully combined.
Have your melted chocolate as cool as possible in a bowl. Add the syrup to the bowl, stir to combine. If the chocolate is too warn the cocoa butter will rise to the surface.
Table the mixture on marble until it forms a paste (knead it on a cool surface if you don't have marble).
Thanks so much, LP! Can I ask what cocoa butter tablets are? I had a look at Amazon and done a quick Google search, only to come up empty handed :/ are they the same as cocoa butter chips?
your final product really came out beautiful!!! I have never made one like that nor have I worked with chocolate

from seeing your first pic of it and then your final... VERY IMPRESSED!!! you have inspired me to want to try something new