Disaster! Long trip - hot day = sad me. (pictures)
Thank goodness this cake was for a friend. Against my better judgement I agreed to take this cake from Indianapolis to Chicago. That's 160 miles. Three hours in the car. The October day turned unseasonably warm.

Sorry the second picture is so fuzzy. I was crying pretty hard and my hands were shaking badly.

They were really sweet about it, too. I think they were more upset about how upset I was. Even though I refused payment they insisted on giving me something. They gave me about half of what I had originally ask for - plus a very welcomed bloody mary.

I've looked through the disasters section on this forum and am a) going to invest in a good sized chunk of memory foam, b) be more aware of the temperature inside of the car and c) NOT deliver any more BC cakes to Chicago.


At least I was on time.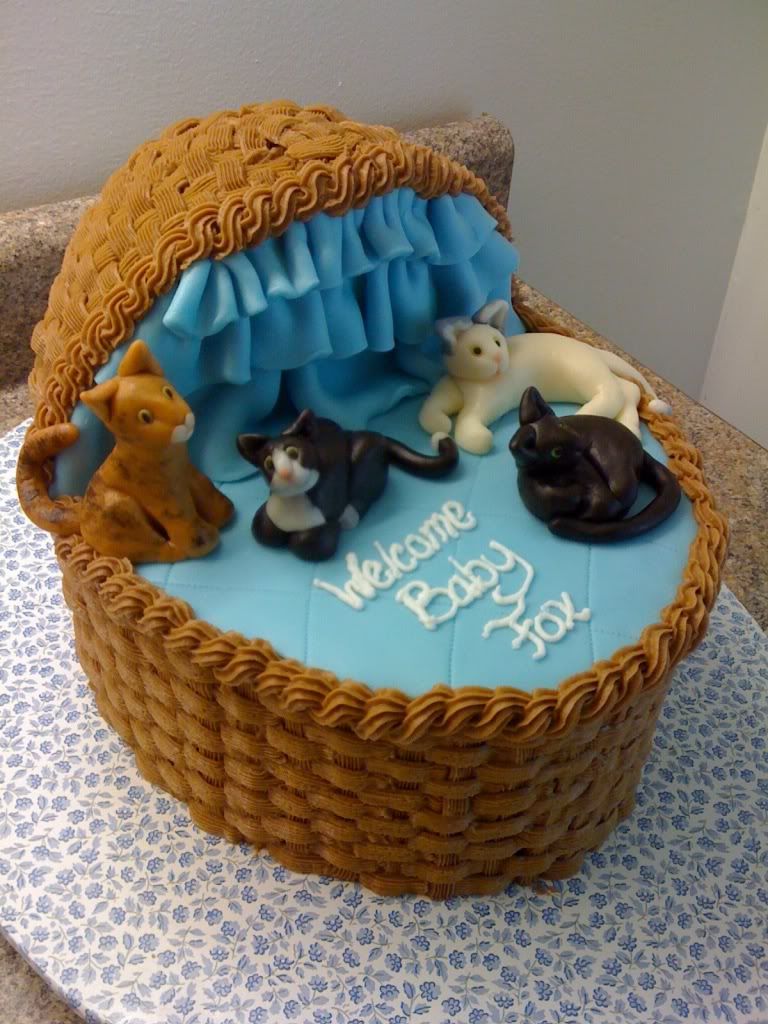 So sorry this happened to you, you're cake was awesome pre-trip. I know how disappointed you were.
Aww...so sad! You're super talented though; I'm very impressed. And nice salvage work! Is the memory foam to set the cake on top of?
So sorry. I feel your pain. A few weeks ago I had two Wedding cakes in 99 degree heat. The reception Hall had no air. The cake had to be fixed. The bride and Groom was there when I arrived and took pic's befor it fell again.
So sorry this happened your cake was gorgeous. The heat and journey can just ruin everything. I hope you are feeling better now because your cake was wonderful and no matter how well we plan it can still go wrong
great cake though
Sorry it happened to you. I had a cake yesterday and the party was outdoors. I warned them beforehand the heat would cause it to melt and droop. They insisted it was okay. I could see it getting soft and starting to droop when we left.
Thanks, guys. I do feel much better now.

tarabara: yes, the memory foam would definitely help absorb the road vibrations. It always surprises me how much more you notice every bump on the road when you have a fragile cake riding with you!

I'm just glad my husband and I had also gotten the mom-to-be a nice gift. I would have felt like I'd arrived worse than empty-handed.
I am so sorry
. Seeing what just happened to you I remember someone here on CC saying that she always travels with a FIRST AID KIT but of course it is all with cake supplies, just in case she needs to repair something.
It was a beautiful cake, and you did take pictures before disaster struck, at least you showed them how beautiful it was!
Hugs...hugs

CIAO
I always chill my cakes before a trip, also did you have air conditioning in the car. No one wants to ride with me, I keep the car so cold. With a cake that small I would just place it on the floor and have the air conditioning blasting on it. I know its too late now, and am so sorry this happened to you, your cake was so cute.
I had a similar experience in Phoenix this summer and the ride was only 15 min! Since then I put it in a box, surround the cake with those flexible ice packs and seal the box. I love the idea of memory foam under the cake, Im adding that to my ritual. Sorry for you It IS a tragedy for such a sweet cake.
ps. I love your little cats!
Yes, make sure your cake is cold, cold before traveling. And that your car is very cold as well. The cake will have plenty of time to get to room temp...especially if you're traveling that kind of distance! Cold cake is dense cake and far less susceptible to swerves and bumps (within reason of course). Even if you use a memory foam pad, be sure your cake is on a rubber mesh pad to avoid sliding (also have one under your foam pad). I had a caketastrophe wedding cake this summer due to heat. I feel your pain!
I'm so sorry this happened to you
You would think that at this time of year we wouldn't have to worry about this kind of thing. Your cake was absolutely perfect, I've never seen such perfect basketweave and what kind of border was that you made and what tip did you use? I LOVE it. And your kitties were adorable, at least they were salvagable. Glad your friend understood, it is a long haul from Indy to Chi town.
I'm so sorry this happened to you
You would think that at this time of year we wouldn't have to worry about this kind of thing. Your cake was absolutely perfect, I've never seen such perfect basketweave and what kind of border was that you made and what tip did you use? I LOVE it. And your kitties were adorable, at least they were salvagable. Glad your friend understood, it is a long haul from Indy to Chi town.
OHHhhhhhhh So sorry!!! It was awesome and it was a great save! I am use to high temps and delivering, I keep the cake as cold as possible before we leave and chill the car for at least 15 minutes, in the shade. Even then when it's 110+ it's tough! It might also help to box the cake, to help with condensation.
You poor thing--BIG HUGS to you! The cake was adorable; I am sure you were more disappointed than anyone. I had a similar incident happen to me only I was coming from Chicago to Indiana. My daughter and I were going to visit my friend and her children in August and her birthday had just passed so I said I was going to bring her a birthday cake. She requested chocolate fudge cake, raspberry filling and chocolate BC (all butter). Needless to say, it was extremely hot that day; we were running late and instead of putting it in a cooler with ice packs like I had planned, I just put it in the trunk. When we got there, I almost died--the BC had melted and slid off the sides of the cake
. My friend was great, though! At least, I had the foresight to take a picture of the cake before we left so I showed that to her. She really liked the "before" picture--of course, it looked nothing like the picture at this point
. We immediately cut into the cake and she loved it. She thanked me repeatedly through our visit which made me feel better but not totally. So, I totally feel your pain. The next time I bring her a cake (and I will because I will have to redeem myself), it is either sitting on my daugher's lap or it will be on the floor in the back seat with a non-skid mat under it.

We all live and learn.
@soledad: LOL! I always take a rescue kit with me for minor repairs but this was so far beyond any kind of damage I've ever had to deal with it was really ineffective.

The trip started at 50 degrees, I was totally unprepared for the weather. Before I knew it the day was actually hot. The A/C just didn't touch it.

Live and learn!

I'm a big fan of what my DH calls "friction pad." I don't let a cake leave (either in my car or in any other) without it.

@diamonds-and-rust: Thank you so much, the basketweave tip is a 47 and the border is an 18. It's a star tip, but I think it makes a nice looking wicker rope.
Your cake was beautiful!! Sorry for the caketrastophe. Some years back I used to deliver cakes more than 50 miles away from me. The ac gave out on me and I couldn't get it fixed right away (mechanic backed up with work) It was in the heat of summer, I learned this trick and have stuck with it since.

Box my cake when it is chilled and ready to deliver. Wrap the whole thing in plastic wrap. Take a large moving box. Lay shredded newspaper in the bottom, take "dry ice" place it in a plastic bag. (I use 10lbs because this is the min to buy) fill the space around the bag of d. ice with newspaper, (this point will be key so your cake does not move) I cut a cardboard to fit the box and place it on top of everything. The I take my cake wrapped in the box and place it in this box. Last of all I take those super large heavy duty trash bags (yard size) and wrap the whole thing.

This acts like a mini fridge and your cake will stay cool 8-10 hrs even without ac in your car. For the amount of hrs you were on the road this would have worked great!
I am so sorry, and so glad you are feeling better now. The cake was lovely. I'm glad the people were so good about it. May you never have to deal with anything like this ever again.
Where do you buy a small piece of memory foam? All I can seem to find is a fat pillow or a mattress pad.
So sorry that you had this happen, but see it as a learning experience. Cars get hot, even when it's cold outside...especially on sunny days. I've taken a four tier stacked, fully decorated cake as far as New Orleans which is 13 hours from where we are in NC. Cake arrived fine, but here's why:
we made a 'refrigerator' from sheet insulation purchased at our home improvement store. They'll even cut it for you. Decide the size you want and have them cut six pieces. We used the kind that has the silver foil paper lining; only costs about $10. Then we used duct tape to assemble the box, using 5 pieces. For the drop down front, just tape the bottom of the last piece to the bottom of the front of the box (imagine an open box lying open facing you). With one of the extra pieces we made a platform for the bottom using small pieces to hold it up on two sides. I then slipped several ice packs under that platform. When it was time to go, we put the cake that was already boxed in a corrugated box and had been refrigerated overnight, into the 'fridge'. We then duct taped the fridge closed and placed in the car. Thirteen plus hours later, the cake arrives still cold (we were impressed-lol)!! I've been using the 'fridge' method ever since. I've even loaned it to customers who were transporting 'my' cake long distances. It works, and it's cheap to make. HTH
I also would like to know where can I get the memory foam.
Believe it or not you can get a small memory foam dog bed, but it is still expensive. Other than that I haven't seen any small pieces of it, so I am curious too.
it took 1 cake disaster last summer (fudge filling that melted & car too hot), now I refrigerate all my tiered cakes before transport, it's such a load off to watch that cake not move an inch in the car (usually my deliveries are under 1/2 hr) while the cake & icing are nice and firm
there's an xl memory foam pad by carpenter on amazon right now for 19.99